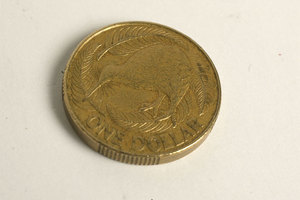 The New Zealand dollar fell as signs of a pickup in US economic growth spurred demand for the greenback.
The kiwi dropped as low as 79.63 US cents early this morning, dipping below 80 cents for the second time in a week, and recently traded at 80.17 cents from 80.55 cents at 5pm in Wellington yesterday. The trade-weighted index slipped to 75.23 from 75.60 yesterday.
So-called risk-sensitive currencies including the kiwi, the Canadian and Australian dollars fell. A report in the US yesterday showed April's trade deficit widened, reflecting a rebound in imports that point to gains in spending. Signs of improvement in the world's largest economy has spurred investors to withdraw money from the flagship Pimco bond investment fund for the first time since 2011.
The trade figures "show you that the US economy is still ticking along quite nicely," said Sam Tuck, senior manager FX at ANZ New Zealand. "There's definitely enough signs that it could be sustainable growth and people don't want to miss the boat on that."
The US trade deficit widened to US$40.3 billion in April reflecting a rebound in imports of consumer goods and business equipment, increasing optimism about economic growth.
Investors are watching for signs of recovery in the US economy on expectations it will spur the Federal Reserve to taper its stimulus programme, lessening demand for the so-called carry trade where investors borrow in low-interest-rate currencies to buy higher-yielding assets.
Federal Reserve Bank of Kansas City president Esther George yesterday urged the Fed to slow the pace of its US$85 billion monthly asset purchases, saying low interest rates may prompt investors to take on more risk.
"The only thing I am certain of is volatility is going to continue to be high," said ANZ's Tuck.
Meanwhile, a report this morning showed global dairy prices declined an average 5.3 per cent from the previous fortnight although prices remain 54 per cent above year earlier levels. The result is unlikely to threaten Fonterra's recent dairy payout forecast, Kymberly Martin, a strategist at Bank of New Zealand, said in a report.
"New Zealand commodity prices will broadly remain a support for the New Zealand dollar in the year ahead, but some of the recent 'drought-inspired' gains in dairy prices will ease," Martin said.
Further evidence of the direction of New Zealand commodity prices is due at 1 pm today with the release of the ANZ commodity price index for May.
The local currency gained to 83.01 Australian cents from 82.81 cents at 5pm yesterday after the Reserve Bank of Australia yesterday said the inflation outlook provided some scope for further monetary easing.
In Australia today, traders will be eyeing a government report on first quarter gross domestic product. Australia's annual economic growth probably slowed to a pace of 2.7 per cent in the first quarter, from an annual pace of 3.1 per cent, according to a Reuters survey of economists.
In New Zealand, traders will be watching a report on the value of building work for the first quarter, scheduled for release at 10:45am.
The kiwi slipped to 80.09 yen from 80.32 yen yesterday and dropped to 61.18 euro cents from 61.65 cents. The New Zealand dollar dipped to 52.29 British pence from 52.54 pence yesterday.