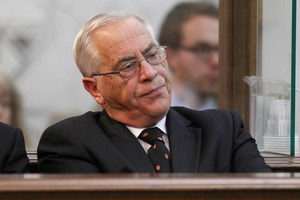 It may be months before Sir Douglas Graham learns if he is to lose his knighthood for his role in the 2008 Lombard Finance collapse which cost investors about $100 million.
Last week questions arose again over Sir Douglas retaining his title when the Court of Appeal upheld his conviction and that of three other Lombard Finance directors.
Yesterday, Prime Minister John Key confirmed he'd received advice on the issue from the Cabinet Office over the weekend.
"Bluntly what that advice tells you is it's my decision and there's a number of factors to take into consideration. I'll do that when all appeal processes are exhausted."
Sir Douglas' only legal recourse now is to go to the Supreme Court. However, a spokeswoman for his lawyer, Jim Farmer QC, said yesterday no decision had been reached on taking the case further. Sir Douglas was unavailable for comment.
While the strength of the Court of Appeal's judgment may discourage an appeal to the Supreme Court, if the case did go forward and the court granted leave to appeal, it could be months before a hearing took place.
Labour leader David Shearer yesterday said Sir Douglas should not wait and should hand back his knighthood. "That would be the honourable thing to do.
"He's done some wonderful things in his life but I think in this episode he really does need to consider whether he has that knighthood."
Mr Shearer said Sir Douglas would be remembered for the good things he did even without his title but "there are thousands of New Zealanders who lost their futures and their life savings because of the actions and decisions he took".
Meanwhile, Mr Key indicated the decision would be a difficult one, should he have to make it, as he could see both sides of the argument.
"It would be a big call to take a knighthood off someone. The only example we've got in New Zealand's history is the former Cook Islands Prime Minister Henry and he was found to be defrauding the state.
"Even in the UK where there's been a tradition of knighthoods for a very long time, there's been very few that have been taken off people. On the other side of the coin, I accept the seriousness of this matter."
The judges who heard Sir Douglas' appeal "make it quite clear that they don't believe he intentionally acted dishonourably or with intent".