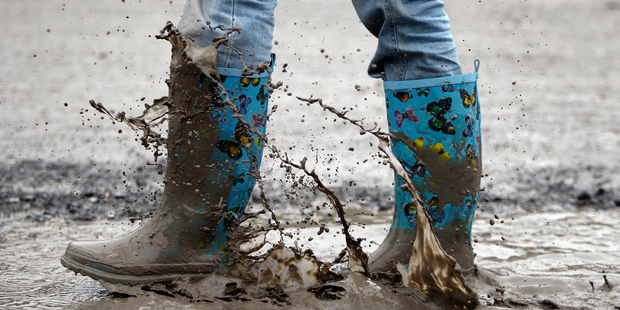 PUT THE BOOT IN
Now that ACC seems to have its budget under control, and hasn't inadvertently released any private information for a while, it is good to see it focussing on the important things - such as gumboot injuries. ACC's general manager of insurance and prevention services, John Beaglehole, has put out a press release on the dangers of the traditional New Zealand footwear. Apparently 160 gumboot-related ACC claims were made last winter. Injuries happened while people were putting on, taking off, cleaning, throwing, walking, running and jumping in their gumboots. Gumboots were responsible for bent fingers, pulled hamstrings and strained groins, shoulders and backs. Some people were bitten by spiders nesting in their gumboots. Others axed their toes, or used boiling water to clean their gumboots - while their feet were still in them. How long before gumboots are required to carry warning labels?
FIRST-CLASS JOB
BusinessNZ chief executive Phil O'Reilly has a reputation for enjoying the finer things in life, and he'll have a chance to enjoy them even more now he has been elected chairman of the Business and Industry Advisory Council to the OECD.
He is staying on at BusinessNZ, but the double role shouldn't be too awful - the BIAC has offices on the Chaussee de la Muette in Paris' desirable 16th arrondissement, just a stroll from the nice restaurants La Gare and Le Grand Bistro.
FLIGHT PLANS
The aviation and tourism industries are watching with interest as Wellington City Council takes steps towards a $300 million plan to extend the city's airport by 300m (yes, a million a metre). The council and its supporters declare the economic argument is a "no brainer". But the council owns only 34 per cent of the airport and majority owner Infratil will need to be convinced. John Key's (retracted) comment that Wellington is dying has a ring of truth about it, but while the council says a bigger airport could breathe life into the capital, the challenge will be getting airlines to take the risk of entering the Wellington market. The experience of Air Asia X in Christchurch was a cautionary tale for overseas airlines considering going into a smaller market.
THINK SMALLER
Treasury's latest statement of intent is a bit less aspirational about economic growth than the department has been in the past. In 2011 Treasury said it was aiming for growth in real per-capita GDP to average 4 per cent-plus, as this was necessary to close the gap with Australia within 15 years. Now it says that while this is still a relevant long-term target, a more feasible goal for the next few years is 2-3 per cent growth in GDP per capita.
Speaking of "closing the gaps", the phrase is being used more by Labour MPs in recent times, with Claire Curran, for example, using it in several contexts. The words were virtually banned in Labour circles for many years after the phrase became politically tainted when it was last in government. Times must be changing.
LOOK AT ME FAILING
A Massey PhD student has confirmed what many suspect: people who are high-flyers in their early corporate career can crash and burn if they are narcissists. Jeff Simpson tracked 75 graduates, 10 of them with narcissistic traits, at a top-five consulting firm. He says the narcissists were seen as future stars at their initial interviews and were snapped up. Within their first year these same stars were rated as performing poorly, and by year two were at the bottom of the graduate group. Narcissists thought they knew it all and learnt nothing, while more humble souls feared failure and worked hard. Those with narcissistic traits were far less self-critical of their own performance than the non-narcissistic group, who tended to have a more balanced, critical view. It seems humility makes people better performers - it just might not catch the recruiter's eye.
SUPER-PUNT
If you fancy a flutter in luxury style, the Bloomberg news agency reports that the 32nd floor of the Galaxy Macau casino has a waterfall, vintage single malt whiskies and six super-sumptuous gaming rooms. The only catch is that to be allowed entry to those rooms, players must commit to betting at least 10 million yuan on each visit. That's just over $2 million.