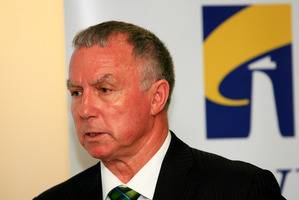 Outgoing Tower chief executive Rob Flannagan has down-played suggestions it is a takeover target and says the company has not been approached by any general insurers wanting to buy it.
Flannagan, whose notice period ends in March, yesterday announced a half-year net profit of $44.2 million for the six months to March 31, up from $23.6 million a year earlier.
But stripping out the $51.4 million gain it made from selling its health insurance business the insurer made a loss of $7.8 million from continuing operations compared to a $6.2 million profit the year before.
Since the March 31 first-half Tower has sold its investment and life insurance businesses as part of its strategic overhaul. This year the company returned $120 million to shareholders and yesterday Tower confirmed a further $114.5 million would be distributed once the sale of the life insurance business went through.
Flannagan said the underlying result for the general insurance division was consistent with the same prior period but provisioning increases for Christchurch had impacted the result.
Tower increased its provisioning from $3.1 million to $19.7 million.
Flannagan said the adjustment was due to higher than expected rebuild costs and a slowdown in dealing with the EQC after privacy breaches.
"All of those things are factors."
He now believed the provisioning was sufficient and the company was in a good position to focus on growth.
Last week shareholder Devon Funds Management, which owns 8.6 per cent, said Tower was at risk of being a takeover target because of its low valuation compared to Australian insurers and high cash position.
But Flannagan said potential buyers were probably being scared off by the Christchurch situation. However, as a listed company he admitted it did not have any control over its shares.
Guinness Peat Group, which owns 34 per cent of Tower, has made no secret of its desire to exit the business.
Flannagan said the growth of the company rested with its leadership. The board has been refreshed in the past year and Flannagan said an announcement regarding his replacement was imminent.
Shares in Tower closed up 15c yesterday on $1.85.