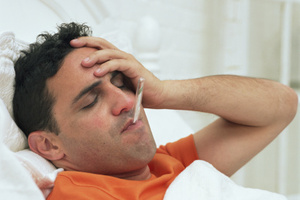 Ailing workers might find it tougher to get a medical certificate from their doctor after a review into how the certificates are issued.
The Medical Council is proposing changes which include allowing more information to be provided on certificates and making it clear that if a patient is fit for some duties, the doctor should outline what those duties are.
The council said several factors could make completing a medical certificate a difficult task for doctors. They were restricted in how much information they could provide to an employer, insurer or government agency.
"They may only provide the information that is required by the agency, and which the patient consents to being released.
"This can create difficulties when the third-party has access to some, but not all, of the relevant information."
First Union general secretary Robert Reid said it was a further erosion of worker rights.
There was also an issue with doctor-patient confidentiality and the doctor being put under pressure to release details of a patient's condition.
"I am disturbed that it looks like doctors are really being leaned on by forces outside of the relationship that they have with their patients to breach more and more of the confidentiality between patient and doctor."
Mr Reid said arguments that it would be harder for workers to take "sickies" held no weight.
"I really get angry with those sorts of statements from employers who essentially make out workers to be malingerers, and therefore they're having to be checked on for every single thing they do."
Employment lawyer Max Whitehead said employers often knew instinctively when an absence was "dodgy", but were powerless to contest it when a doctor signed a medical certificate.
"Rather than challenging a patient's honesty, doctors declare them as sick. This means the doctor gains financially and the powerless employer has to lose a day's work and pay a day's wages."
But Council of Trade Unions president Helen Kelly said any suggestion that doctors were faking certificates was "an absolute outrage".
"It's just not true," she said.
Employers and Manufacturers Association occupational health and safety manager Paul Jarvie said doctors should be able to focus on what people could do, rather than what they could not do.
"If the doctor is continuously signing someone off then that's going to raise questions with the employer about 'how long can I have this person not being at work because I've still got a business to run'."
Chemists notice rise in colds, flus
It's turned chilly, there's snow in the forecast and the season of coughs, colds and influenza is upon us.
Hospitals haven't had an upsurge in respiratory illness rates yet, but suburban pharmacists say they are serving more customers now than at the start of May who are seeking relief for the likes of sore throats and runny noses.
"It's that change of seasons and it's coming to the start of the cold and flu era," said Jessey Peng, of Unichem Royal Oak Pharmacy in Auckland. "More and more people are coming in requesting cold and flu products."
David Postlewaight of David's Pharmacy in Whangarei said the chill had not reached the north yet but was expected today, although wintertime ills seemed to have struck his community already.
"People are definitely getting the minor colds but nothing major yet.
"It was predicted it was going to be a big flu season. We don't seem to have seen any of that yet - just the typical man-flu, people buying decongestants and paracetamol. They seem to be flying off the shelves. That's quite typical for this time of year.
"At the first sign of a sniffle people seem to get into those so they can keep working ... and just soldier on."
He said people should check with a pharmacist before taking decongestants because of possibly harmful interactions with some prescription medicines.
Many pharmacists are also now allowed to give flu vaccinations.
The Government estimates that its target of 1.2 million people receiving the vaccine has been met.
Latest data from the Institute of Environmental Science and Research, which tracks influenza rates, shows a small increase in the week to May 19.
- Martin Johnston
- APNZ