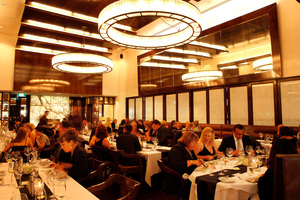 New Zealand chef Peter Gordon's dine restaurant in Auckland shuts this week so the area can be gutted and the SkyCity Grand Hotel's new hotel lobby bar can be relocated there from its Federal St frontage.
The award-winning restaurant, opened eight years ago on the ground floor of the hotel and convention centre spanning Albert St and Federal St, shuts on Saturday and to mark its end, patrons have been offered a $115-a-head degustation experience throughout this month.
In July, Gordon will open The Sugar Club on Level 53 of the Sky Tower, SkyCity Entertainment Group said this month.
The interior decor of the new restaurant will be modelled on the film I am Love which starred Gordon's favourite actress Tilda Swinton, SkyCity said.
SkyCity Grand's lobby bar shuts on June 9 and a new restaurant will be developed there, near Al Brown's Depot Eatery and Oyster Bar which opens out on to Federal St.
Nic Watt, previously with Zuma and Roka in London, will open Masu, a Japanese restaurant and bar at the seaward end of the existing lobby of the Grand Hotel.
The Observatory Buffet Restaurant on level 53 of Sky Tower shut a month ago, ready for The Sugar Club's fitout.
Orbit, the popular spinning restaurant on level 52, continues.