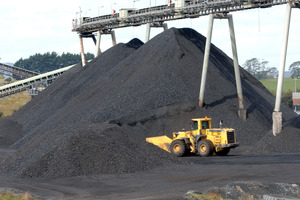 The possibility of two open-cast coal mines simultaneously digging into the West Coast's Denniston Plateau, disrupting nationally important flora and fauna, was not considered when a court gave Bathurst the go-ahead, conservationists said today (Mon).
The Royal Forest & Bird Society took its fight to the High Court at Christchurch today to appeal against interim resource consent given to Bathurst Resources Limited for a 188ha open-cast mine on the plateau above Westport.
Last week, Conservation Minister Nick Smith approved access rights to the Australian company for the project, saying it would provide a $1 billion boost to the economy and create 225 jobs.
Despite the Government's move, Forest & Bird are continuing to fight.
The group, whose appeal was jointly lodged with the West Coast Environmental Network, says Bathurst's Escarpment Mine Project would bring significant adverse affects on the delicate and precious ecosystem.
Denniston Plateau is home to significant indigenous flora and fauna, it said, including at-risk plants, lizards, geckos, birds and snails.
This morning, lawyers for the environment watchdog claimed the Environment Court's decision was flawed and should be quashed.
Peter Anderson, counsel for Forest & Bird, said the effects of an unimplemented coal mining licence by state-owned Solid Energy for another mine, the Sullivan Mine, also on the Denniston Plateau, should have been taken into account.
The Environment Court judges ruled that the possible open-cast Sullivan Mine did not form part of the existing environment since the licence has not been used.
The coal mining licence which expires in 2027 is, however, "akin to a permitted activity and as such is capable of forming part of the existing environment," Forest & Bird argued.
West Coast Environmental Network's counsel Quentin Davies said the cumulative effect of both mines operating at the same time were not properly considered.
"One cannot manage, protect or safeguard something if cumulative threats to it are not assessed," he said.
Buller Coal Limited, owned by Bathurst Resources Ltd, has rejected the "narrow" argument.
West Coast Regional Council and Buller District Council, which granted mine consents last year, also opposed the appeal.
They say further licences and material resource consents would have to be granted before the Sullivan Mine could go ahead with mining.
Buller Coal said nothing in Forest & Bird's appeal or submissions detracted from the "straightforward reasoning and conclusion" of the Environment Court ruling made earlier this year.
Defence counsel Jo Appleyard said that the inherent nature of the Denniston Plateau creates significant consenting issues for anyone wanting to undertake mining activities on it.
"Open-cast mining is a very complex, resource intensive and intrusive process," she said.
Buller Coal had to apply for 24 separate, wide-ranging resource consents from both councils over its Escarpment project, she said.
And if Solid Energy wanted to push ahead with Sullivan Mine, it would have to go through the same processes.
The High Court hearing, before Justice John Fogarty, is set down for three days.
- APNZ