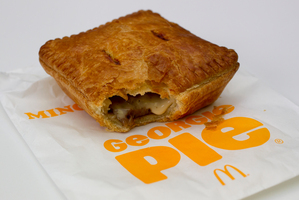 A pie-lover has forked out more than $400 to be one of the first people in the country to taste a Georgie Pie, 15 years after the last meaty savoury was sold in New Zealand.
Two tickets to an exclusive pre-launch tasting event for 50 Georgie Pie fans were auctioned on the Trade Me website.
The top bid was won by shotgunsupp, who paid $450 for the tickets.
Proceeds from the auction were to go to Ronald McDonald House Charities.
The pre-launch event will be held on Wednesday at McDonald's in Auckland's Green Lane.
The winner had to make their own way to and from the venue.
McDonald's announced earlier this month it would begin selling the Georgie Pie Steak Mince `N' Cheese pie at 11 restaurants in Auckland and Waikato next month.
However, the pie's return comes with a $4.50 price tag - up from the $1 the pies used to retail at and up to three times the cost of other pies.
- APNZ