Defamation action over failure of Hanover Finance heading to court.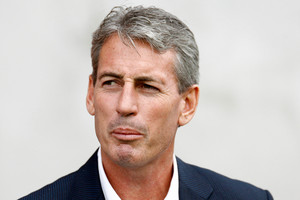 Eric Watson and Mark Hotchin are seeking $7 million plus costs from a man who criticised them after the collapse of Hanover Finance.
Bearing the brunt of the multi-million dollar claim is former Shareholders Association boss Bruce Sheppard.
The amount is revealed in a statement of claim setting out the businessmen's case against Sheppard in a High Court defamation suit.
Sheppard spoke sharply about the pair's dealings at the height of anti-Hanover sentiment in interviews in late 2009.
On Television New Zealand's Close Up, Sheppard said people who saw Hotchin and Watson should "run them over on the street, back your car over them".
Sheppard's comments have already cost the New Zealand Shareholders' Association at least $100,000 after a defamation case was settled last month.
The Financial Markets Authority, of which Sheppard is an associate member, is pursuing a civil case against former Hanover directors and promoters, including Watson and Hotchin.
Simon Allen, FMA chairman, said Sheppard had been excluded from involvement in, decisions about or access to any information about FMA's investigation into Hanover and its subsequent civil proceedings.
"The decision to exclude him followed a detailed conflict management process."
Allen said Sheppard's comments pre-dated the founding of the FMA and were his "personal position" and declined to comment further.
Sheppard was paid $44,000 in the 14 months to June last year for his FMA services.
Legal skirmishes ahead of the hearing in the High Court at Auckland on August 19 have seen victories for both sides.
Hotchin and Watson won the right to hear the case before a judge, not a jury, and Sheppard will be allowed to examine previous business dealings and the reputations of the men.
This month, the Serious Fraud Office announced it would not charge those involved with Hanover, after a 32-month investigation which cost $1.1m.
Watson has previously said they would pursue Sheppard "because of the severity of the statements" and "resulting damage". Sheppard did not return calls.
About 16,000 investors lost $500m after Allied Farmers bought the company in 2010.
Sheppard is a partner of accountancy firm Gilligan Sheppard.