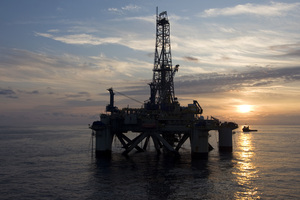 The Green Party will bid in a tender for oil and gas exploration to try to protect New Zealand waters from a Gulf of Mexico-like oil spill disaster.
Bidding for Block Offer 2013, the non-financial tendering process for oil and gas exploration permits for a 189,000 square kilometres offshore area, with depths of up to 2000 metres, begins today.
Onshore blocks in Taranaki, the North Island's east coast, and three offshore areas of Reinga-Northland, Taranaki, and Great South-Canterbury basins are being offered up for petroleum exploration.
The Greens, who have slammed the Government's policy on deep sea drilling as "reckless", have pledged their own bid on behalf of "thousands of Kiwis who love our beaches and pristine oceans and want to protect them".
Applications will be evaluated, not on who is the highest bidder, but based on a number of criteria including the applicants' corporate standing, technical and financial capability, risk management practices, operating experience and proposed work programme.
The Green Party says it would meet the Government criteria of development, by leaving the areas alone and protecting them from exploration.
It now needs to scrape up the $6000 application fee to have its bid seriously considered alongside local and global oil giants.
'Kiwi Bid' would protect New Zealand's beaches and oceans, Green Party energy spokesman Gareth Hughes said, rather than run the risk of a catastrophic deep sea spill like the Gulf of Mexico disaster in 2010.
"There are no guarantees of safety with deep sea oil drilling," he said.
"It is reckless for the Government to gamble with our economy and environment by risking an oil spill from deep sea drilling."
While there are economic benefits from deep sea drilling, it doesn't justify risking an oil spill that could cost the economy billions, he said.
"Rather than backing the oil industry the Government would do better to encourage other sectors of the economy like clean energy that build on our valuable clean green brand and don't risk a catastrophic oil spill," said Mr Hughes.
The Ministry of Economic Development consulted with iwi and local government on five proposed onshore blocks and three proposed offshore release areas between November 8, 2012, and January 30, this year.
The tender will close for bidding on September 26 with permits being awarded by the end of the year.
The Ministry of Economic Development says oil and gas are an important part of the New Zealand economy, with oil being a major export earner and gas helping fuel the domestic economy.
"The Government is committed to strategically managing exploration interest in New Zealand," its website says.
Between 2002 and 2012, the Government has held 15 block offers, with 10 petroleum exploration permits being awarded last year for the Pegasus, Taranaki, and Great South basins.