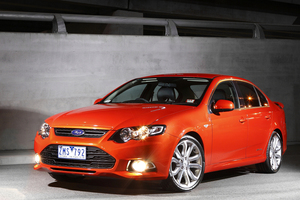 Unemployment rate of 5.5 per cent set to rise with more job losses in manufacturing sector Ford's decision to shut down its production lines in Australia at the cost of thousands of jobs across the automotive industry has dealt another heavy blow to Prime Minister Julia Gillard's ailing minority Government.
Although Ford's exit has long been expected after 20 years of declining fortunes for the industry, the disappearance of its iconic Falcon is not only a heavy blow to the national psyche but will also further undermine voter perceptions of Labor's economic credentials.
Ford's announcement comes a week after a federal budget marked by major spending cuts and expectations of continued deficits, driving down consumer confidence and placing employment squarely in the spotlight for the September 14 election.
It also comes as telecoms giant Telstra prepares to unveil a restructuring that is expected to include further significant job losses, and follows the disappearance of household brands such as Darrell Lea and Rosella.
Jobs have been shrinking across the A$106 billion ($127 billion)-a-year manufacturing sector, with an estimated 30,000 lost so far this year.
Yesterday nationwide cleaning company Swan Services announced it was closing, shedding 2500 jobs across Australia - 800 joining the Ford losses in Victoria.
The nation's unemployment rate of 5.5 per cent means more than 680,000 Australians are out of work, and the number is forecast to rise.
This is grim news for Gillard, facing what opinion polls predict will be a landslide to the Opposition in September. Voters believe the Coalition is far better at managing the economy, and that Shadow Treasurer Joe Hockey outclasses Treasurer Wayne Swan.
The Opposition has been able to portray Labor as a profligate and incompetent economic manager, squandering the multi-billion surplus it inherited from the former Coalition Government in 2007 and hammering the economy with measures such as the carbon tax.
Ford Australia president Bob Graziano blamed the high dollar, rising costs and "one of the most competitive and crowded automotive markets in the world" for the decision to end local production.
He said costs in Australia were twice those of Europe and four times those of Asia, handing the Coalition new ammunition against the Government.
Ford is not the only carmaker in trouble. Holden has also cut jobs and production and, with Toyota - the only other Australian vehicle manufacturer - is widely expected to close its lines within the next few years.
This is despite more than A$3 billion in federal aid to Ford and Holden since 2000, and the promise of a further A$5.2 billion by 2021.
With the automotive sector employing more than 55,000 people across the nation, paying A$5 billion a year in wages, raising more than A$3 billion in exports and spending almost A$700 million on research and development, both major parties support continued aid.
But the Opposition has attacked government car policies, and yesterday linked Ford's decision to failed economic management and the carbon tax, which it said had added A$400 to the production costs of a new car.
While the Government has rejected the claim, it is fighting on its back foot.