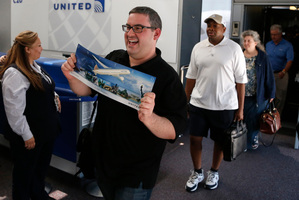 United Airlines put its 787 back in the air yesterday, with both the airline and Boeing hoping to get the plane's four-month grounding behind them.
The flight from Houston to Chicago was just the kind of 787 flight that airlines are hoping for: uneventful.
Smouldering batteries on two 787s owned by other airlines prompted authorities to ground the planes in January. The failure of Boeing's newest, flashiest and most important plane embarrassed the company and its customers.
Both United chief executive Jeff Smisek and Boeing chief executive Jim McNerney were on board the flight, and United promoted the plane's return to service.
Said Smisek, "I'll tell you, Jim, it was a fairly expensive piece of sculpture to have on the ground so we're really delighted to have it up and flying."
United is the only US airline flying the 787.
The airline, based in Chicago, says it will use 787s on shorter domestic flights before resuming international flying on June 10 with a new Denver-to-Tokyo service as well as temporary Houston-to-London flights. It is adding flights to Tokyo, Shanghai, and Lagos, Nigeria, in August.
Those long international flights are the main reason the 787 exists. Its medium size and fuel efficiency are a good fit for long routes. Starting with shorter domestic flights "will give us a period to ramp up full 787 operations", the company said.
Four of its six 787s have been fixed and United said the other two would get the battery modification in coming days.
United was forced to delay planned international flights and the grounding reduced first-quarter earnings by US$11 million ($13.5 million).
Boeing never stopped making 787s, but deliveries were halted. They resumed last week.
-AP