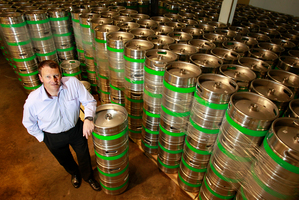 Independent Liquor's move into the retail trade will help to level the playing field in an "anti-competitive" bottle store market dominated by major alcohol producers, says chief executive Julian Davidson.
The Papakura-based firm - whose brands include Carlsberg, the Boundary Road beer range and Woodstock Bourbon & Cola - announced yesterday that it had reached an agreement to acquire The Mill, which operates 35 liquor stores from Whangarei to Dunedin.
Davidson, who declined to disclose the purchase price, said the dominance of alcohol producers, which he did not name, in the liquor retail trade had made it difficult for Independent to gain access to some retail stores.
"We've made this move because currently, quite often, a customer's product choice is already made for them before they enter a liquor store," he said. "This is because of producer dominance in the retail channel, which can result in the destocking or blocking of some brands and product portfolios. We've experienced this first hand - it's anti-competitive and should be challenged."
Brewing giant Lion owns the Liquor King bottle store chain. It also owns the Super Liquor brand, but does not have control over the stores.
DB Breweries has not owned retail outlets since it sold Liquorland to Foodstuffs in 2008, but at the time of the sale the company said it would retain its marketing and supply agreements with the chain.
DB and Lion declined to comment yesterday.
The Mill, which opened its first store in Taranaki in 1993, is owned by New Plymouth-based Christopher and Nyall Symkin.
According to its website, the retailer's success and growth have been based on offering a wide range of products and "pricing deals that have never been seen before".
When the Business Herald tipped the sale in February, a liquor industry source said some of Independent's customers - other retailers - might be unhappy with the manufacturer coming on to their turf.
"You would be seeing a heavy discount producer getting together with a heavy discount retailer, which seems like a nasty cocktail," the source said.
Davidson said Independent did not intend to position The Mill as a discount-focused retail chain.
"The last thing we want to be, and the last thing we are, is a discounter around the trade," he said. "If The Mill has operated on a discount footing historically that is not the case going forward."
Jeremy Livingston, who will be leading The Mill as chief executive, said the sale agreement brought the possibility of a major facelift for the firm's stores.
"We are also looking at franchising the store network, which will provide local operators with the opportunity to develop their own stores under a strong national brand."
Independent, which is owned by Japanese brewer Asahi, said it expected to take ownership of The Mill in late July, provided "certain conditions" were met.