Four years to get through planning process for mixed-use development too long, says supermarket chain.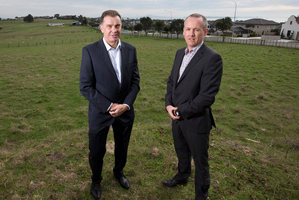 A four-year battle to get to the stage where resource consent can be sought for a Beachlands project has left one of New Zealand's biggest supermarket chains disillusioned about planning processes.
Adrian Walker, Progressive Enterprises' general property manager, said the mixed-use development planned for the intersection of Beachlands Rd and Whitford/Maraetai Rd had taken too long to get through the system.
In 2009, Progressive's General Distributors bought the site but a plan change was needed for rural land to be rezoned and then appeals took two years to resolve, he said.
"It's a good example of the time frame it can take to get through the process. Four years is too long.
"We have had to hold the land for that period," he said, referring to a costly court fight along the way.
"It should be able to be processed more quickly that than. We got consent from the council in 2011 but the appeals took another two years," Walker said of the process resolved by a May 10 Environment Court decision rejecting the Pohutukawa Coast Community Association's appeal.
Cameron Butler, association chairman, said holdup claims were disingenuous because the time between Progressive's plan change notification and approval was extremely short.
"This is a victory for money and bad planning. They were expecting to bulldoze this through but we've quite happily taken them to court to get a better result for our area. Why does a town with 7000 people require three separate commercial areas?
"We're very disappointed but we can only appeal on points of law and our lawyer, David Kirkpatrick, can't see any," Butler said.
Development on the 13ha of farmland on Beachlands's edge, southeast of Auckland, can now go ahead, despite the association's arguments that there was adequate capacity within the existing commercial area for current and future retail, business and community demands and the existing commercial area would be undermined.
Brady Nixon, a Progressive development manager, said a new Countdown, shops, offices and 39 houses were planned. Minimum lot sizes are 700sq m so substantial houses are planned for the 7ha block zoned for housing, he said.
Almost $100 million could be spent developing the land in the next 20 to 30 years, he said and new roads following the same pattern as at Beachlands are planned to dissect the 13ha: Karaka Rd towards the waterfront side of the land and Seventh View Ave south of that.
Businesses had shown an appetite to move to the site.
"We've had a lot of inquiries from food and beverage-like businesses and retailers," Nixon said.
A medium-sized Countdown can now rise as the anchor development across the road from the residential edge of the coastal settlements of Beachlands and near Spinnaker Bay, Maraetai and Pine Harbour.
An initial $50 million is planned to be spent on the supermarket, shops and business phase but a further $40 million could be spent on the rest of the site where Progressive will tap into subterranean streams for water, develop stormwater ponds on the south side in a gully and build a connection to the area's main sewer.
"When we start depends on when we get resource consent," Walker said.
The association and Progressive appealed against Auckland Council's decision setting parameters for the project but Walker and Nixon said they got all they wanted from the court which has allowed the Beachlands Village Business Centre.
Progressive plans a hub, with shops, business and community facilities.
Growing fast
* 2011: 2350 households in Beachlands/Maraetai area
* Plan change has now enabled big expansion
* 1250 new Beachlands/Pine Harbour houses allowed
* 122ha of rural land rezoned for low-density housing
* 11.5ha of Pine Harbour land rezoned for 500 new houses
Source: Environment Court's Beachlands decision