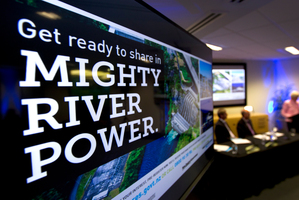 Shares in Mighty River Power ducked below their issue price for the first time since their debut on the NZX today before recovering ground near the close of business.
By 3 pm, the stock was at $2.48, 2c down from its $2.50 a share issue price, and down five cents from Friday's close.
Later in the day, Mighty River shares, which listed on May 10, recovered to $2.50.
"It's always a bit of a psychological issue when a stock goes under its placement price, so it's a tough one,'' Shane Solly, portfolio manager at Mint Asset Management, said. "No one is suggesting that there is a particular reason behind it,'' he added.
Mighty River's share price is seen as being important indicator of market confidence as the Government prepares to sell up to 49 per cent stake in the country's biggest power generator, Meridian, later this year.
Solly said that it could be that some overseas institutions - many of whom would not have acquired their desired allocations - were selling their smaller-than-anticipated holdings, which would account for some of the weakness.
"It would be helpful if Mighty River Power's shares price were to stabilise, but there is still some time to go,'' he said.
Brokers said it was not unusual for a stock to dip below its issue price in the initial phases. Telecom, which listed at 1991, started at $1.60, dropped to $1.40, then finished the year around $1.80.
Shares in Mighty River listed on the NZX at $2.73 on May 10 and finished the day $2.62 - a 4.8 per cent premium to their issue price.
The Government raised $1.7 billion by selling 686 million shares, or 49 per cent of Mighty River, at $2.50 each to local and overseas investors.
New Zealand institutions were allocated 8.6 per cent of the shares on offer and overseas funds got 13.5 per cent, with both scaled back considerably.
- APNZ