Shannon and Rob Auton, founders of OOB Organic icecream on their small Matakana-based organic ice cream and blueberry company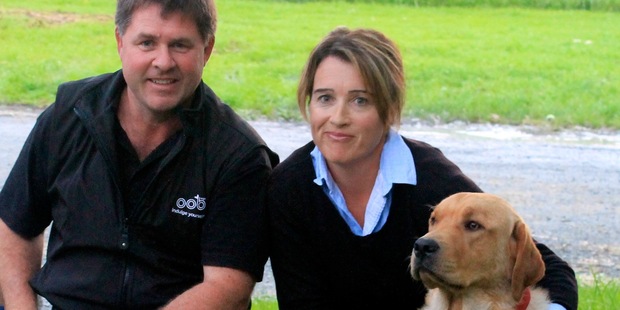 OOB Organic icecream is taking on some big competition with considerable success in New Zealand, Australia and further afield. OOB organic ice cream is crafted in a tiny factory on the Auton's Matakana blueberry orchard.
Shannon Auton:
How do you pitch your icecream against the others?
Premium organic ice cream and sorbet made with real food and the best ingredients: no chemicals, no numbers, certified organic, delicious, and guilt free.
As an icecream brand, who are you up against?
Whilst we are certified organic, the reality is our ice cream must be able to sit alongside and compete with other premium and conventional ice cream brands. Ice cream falls into the discretionary spend segment, so not only do we compete against other ice cream brands we also have to compete with all those products that would normally be purchased as a treat.
How have you managed to get the word out about OOB?
Our organic blueberries have been in the NZ market place for over 10 years. Our initial foray into the world of ice cream started with our berry based and hero flavours Blueberry Ice Cream and Blueberry Sorbet. We have leveraged off the success of the berries to secure and increase our brand's presence in the market.
In 2012 we employed an advertising and design agency, Special Group, to rebrand from Omaha Organic Berries to OOB Organic - so that our packaging and products achieved the optimal level of synergy and consistency. The new packaging has won numerous awards. The brand and our products evolved, moving away from just being berry growers and expanding to become premium organic food manufacturers and distributors.
We have experimented with the usual activities small businesses do to get noticed, such as trade shows, the Food Show, tastings in supermarkets and so on.
However the best way, without doubt, is to have product on the shelves of the stores that matter, and that is with all major supermarkets and all specialty stores.
Have you exchanged views with other small icecream manufacturers?
The ice cream segment is extremely competitive. There are plenty of smaller producers eager to push and aggressively fight for freezer space. In some cases that is quite literal. OOB does share information with some of the larger producers. It makes strategic sense in some instances to talk with not only like minded ice cream makers but premium food manufacturers as well. Also, Rob is currently the president of the NZ Ice Cream Association.
Where are you stocked in New Zealand and Australia?
We are in every Countdown and most New Worlds throughout NZ. You can also find us in the popular Nosh and Farro stores and almost every organic and specialty foodstore.
Our frozen organic blueberries are currently sold in 760 in Woolworths stores in Australia and soon we are releasing our mixed berries into most of these stores as well. It is our intention to secure a market for our ice cream in Australia and Asia this year. Woolworths has agreed to sell our berries and look to expand our range based on the growth we have achieved in NZ. Australia is a tough and very competitive market, and there are plenty of premium food brands available.
However, their interest has stemmed from not only our reputation in NZ but the stores love the feel and look of our packaging. It is very different from what is currently being sold in Oz.
What cost-effective marketing tools are you using to get the word out about OOB?
PR and social media have been the most cost effective ways to get the word out about our brand. A slightly unconventional approach we have chosen is to work alongside well known fashion and lighting brands at high end events like Fashion Week, Bendon promotions and lighting launches with ECC. This slightly unusual approach has given us additional leverage because it is not the usual way to promote ice cream!
How big would you like to become?
We are about a third of the way there, at two thirds capacity and growth potential to go. Whilst exciting, as our wins get bigger, so too do the risks. It is beginning to feel very big and grown up. The challenge for us is to make sure that demand and supply are equal. We have had several offers to buy into the business.
We have turned these down as we're not ready to let go of ownership.


How should you make trade shows work for your business? Why they can work so well for SMEs especially those trying to make new contacts overseas. Email me, Gill South at the link below: