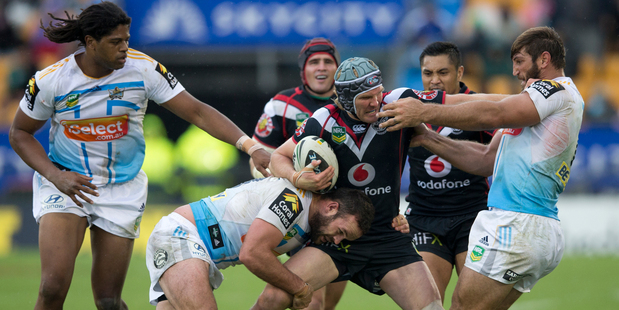 Hard ball
Sky Television has played brinksman before.
But there was something shocking about the game of chicken it played to secure television rights to the 2013 New Zealand NRL rugby league competition.
Sky says it secured a much lower price than was being sought - believed to be $11 million below the $25 million asking price.
And Sky chief executive John Fellet is clear that Sky was prepared to drop one of its three big sports.
He acknowledged thousands of league followers might have ditched Sky had it dropped one of its key sports. But he says Sky calculated it would be worse off if it paid what league wanted to keep subscribers.
That is business and Sky pulled it off, picking up the rights just 24 hours before the start of the season. But it signals the approach in a market where each sport has to pay its own way.
Nothing is too precious to lose if it hurts the bottom line.
Admittedly, Fellet could have felt confident knowing free-to-air channels such as TVNZ were never going to bid. Late-night league does not work on free-to-air TV because audiences are too small to attract advertisers. And with its pay TV monopoly there was no alternative pay operator to pick up rights.
Indications are that after years of steady growth, Sky subscriber numbers are starting to plateau and it is moving from a growth stock to a utility, analysts say.
Beyond that the pay television market is going through rapid change.
Consumer behaviour
The convergence of the internet with television is leading to more video-on-demand. People are shifting away from linear channels, to picking and choosing the content they like from the internet. John Fellet insists Sky is introducing more on demand but there appears to be no rush.
Old partners
Telcos are at the centre of the shift to video-on-demand. But in this country Telecom, and especially Vodafone, are hand in glove with Sky. Vodafone has bought the assets of TelstraClear, including the Saturn cable TV network, so is the best placed to develop an independent television offering. But chief executive Russell Stanners has no interest in television and has a strong rapport with Fellet. TVNZ has been tethered as a partner with Sky in the low-cost option Igloo.
New competition
Sky justifies its huge content rights and an absence of scrutiny or regulation, saying that competitor online entertainment services such as United States firms Netflix or Hulu will come to New Zealand.
Few in the industry expect that to be the case, with the New Zealand market too small to attract them. However, Fellet insists Netflix has been looking at a joint venture with Sky in New Zealand.
One brave player
Quickflix is in advanced talks to obtain rights to sell whole series of hit American television shows. The Australian firm has suffered financial upheavals recently and has issues rebuilding its brand in this country over its lack of film titles. But it does offer competition in the pay TV market.
Ultra-fast broadband
The new fibre-optic network will be a new home for digitally delivered entertainment. But with Sky's control of content there are few signs yet that there will be enough unique content to encourage new entertainment services that overseas have played a key role in the uptake of UFB.
Regulation
A year-long Commerce Commission investigation of Sky TV contracts with telcos and internet service providers is expected to report within two months. Allegations are that Sky's dominance of content rights has allowed it to deliver contracts with onerous requirements on other pay TV services including demanding that they cannot obtain content from outside Sky.
Politics
The National Party has actively backed Sky TV over its critics and has killed proposals to regulate the pay television industry. Labour also ignored Sky's dominance for many years.
But Labour spokeswoman Clare Curran intends to establish a joint regulator for the converged telecommunications and TV industries - a proposal which would regulate Sky.