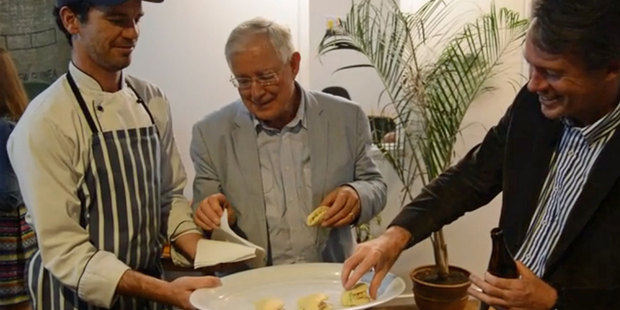 Two Auckland chefs are challenging Kiwi attitudes towards cuisine and waste by serving up under-appreciated food like stingray and pig's head at pop-up dining events.
Andreas Eggmann and Benjamin Barton had both worked as chefs all over the world for about a decade before returning to New Zealand two years ago and starting POPdining.
The pair find empty spaces around Auckland to open their own restaurant for one night only, with a focus on changing the way people think about food, dining out and community.
Events often feature dishes created using by-catch, which are unwanted fish caught in nets by commercial fisherman while they are targeting another species.
Other times, diners enjoy a "nose-to-tail" menu featuring all parts of an animal, such a pig's head, trotters, offal and ears.
Eggmann, 33, and Barton, 32, came home after they had "had enough of cooking for rich people" cruising on super yachts in the Mediterranean, or at ski resorts in France.
They were passionate about reducing food waste and wanted to show people that what was often "turned into cat food or thrown away" could be eaten.
"It boils down to that fact that we all have a responsibility with food. As consumers, we make these choices every day," Eggmann said.
POPdining was about trying to shake up perceptions and convey a message "without standing there and preaching at people".
"We try and get out of the kitchen and actually engage with people and tell them why we're serving things like stingray or black snapper.
"If you don't show people how to eat it and see it's possible, everyone will write you off."
POPdining events are multi-course dinners for 60-70 people served at large communal tables, with each course served on large shared plates.
Getting people to share food and engage with eachother, rather than sitting at separate tables like in most restaurants, was a key part of the philosophy, Eggmann said.
Although the friends were definitely not trying to make a lot of money, the venture had started to develop and they had taken another three chefs on, he said.
"We kept doing these events and it really grew very organically. Now we've cottoned on that we're doing something really good here. Our message is getting across to people."
Events had been held at venues such as Crave Café in Kingsland, Urban Café in Grafton, and Kokako in Grey Lynn. POPdining pays for use of the space and kitchen.
The pair, who aim to give $1 of every meal ticket to charity, recently catered for a TEDx gathering at The Kitchen in Ponsonby.
Auckland TEDx organiser Elliot Blade said he was taken by both the quality of the food and the price after attending a few POPdining nights.
"It was really cheap. I really liked their story and that they hate wasting food. They source a lot of their food locally and try to get as much organic as they can, though they're not too hung up on that."
Eggmann admitted that not everyone who came along to their events understood the POPdining vision. "Some people think we're just trying to freak them out by serving stingray or black snapper."
The next POPdining night has a 'Middle Eastern Vegan' theme and is being run at Kokako on May 29.
To see a short video of the POPdining guys cooking one-pan black snapper and chips, go here.