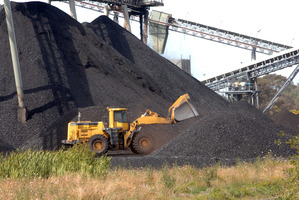 Cash-strapped Solid Energy is paying more than $25,000 a week to lease its palatial Christchurch head office, variously dubbed 'The Palace' and 'The Grandstand'.
Responding to questions from The Westport News, communications manager Bryn Somerville revealed the lease would cost "a little over $1.3 million" this financial year.
Solid Energy had sublet one floor of the three-floor Show Place building to Ngai Tahu since March, he said. He would not reveal how much Ngai Tahu was paying.
West Coast-Tasman MP Damien O'Connor said the head office was a "classic example of corporate extravagance".
"What a scandalous waste of resource when a mining company that sources its wealth from regions can't base itself there at a far lower cost, closer to its operations and more able to make the correct management decisions.
"This is one more example of the scandalous waste and disconnect between the miners, the mining operations and the managers."
Nor was he impressed that Solid Energy had sublet one floor to Ngai Tahu recently.
The "desperate attempt" to reduce costs would not paper over a "classic example of corporate extravagance", Mr O'Connor said.
He believed head office should be in Westport or Greymouth.
Solid Energy moved into Show Place in mid-2010. At its peak head office staffing in December 2011, 225 staff worked there.
Solid Energy bosses say the building is now too big for the downsized company and it will be moving out.
Mr Somerville said Solid Energy expected to progress relocation plans next month, once it had wrapped up the latest redundancies. Solid Energy had no alternative premises lined up so far. "Christchurch is a difficult town to find places."
The company announced last week that 105 of the 234 staff either working at or reporting to head office would lose their jobs.
At the time, interim chief executive Garry Diack said that head office staffing was expected to fall to around 50 over time. Solid Energy planned to return some head office functions to the West Coast and Waikato.
"The real focus will be on the mines and in the market."
He rejected Mr O'Connor's call to move the head office to Westport or Greymouth.
Mr Somerville said the 105 staff currently facing redundancy had had until yesterday to provide feedback on the proposed job cuts.
The company expected to make final decisions next week and wrap up the process in June.
Fifty-two jobs are to go in Christchurch and 53 at five regional sites, including Buller and Grey.
Solid Energy expects the cuts to cost it $3.5 million in redundancies - an average of $33,333 per position.
It expects to save $18m - an average of $171,428 per position.
The company has said it will have about 1000 staff by the end of June, around 620 fewer than the same time last year.
- The Westport News