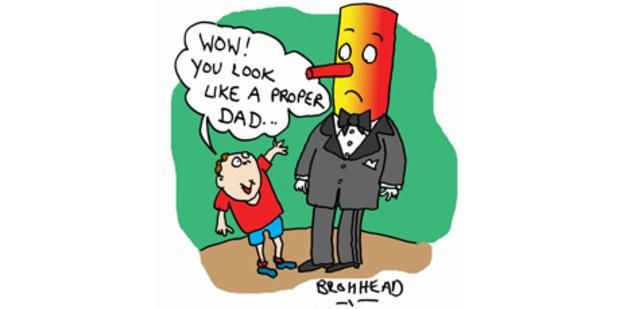 It's been a rewarding week, with another accolade bestowed at the annual media awards. More importantly, I'm still able to button up my tuxedo trousers.
I measure my yearly weight gain or loss by this black-tie event, the only function now left in my yearly outings that requires formal clothes. Sadly, this indicates how life has changed.
In my heyday I kept three tuxedo suits on the go, including a midnight-blue doeskin number with a shawl collar, similar to what the Frank Sinatra rat pack considered de rigueur for burning the midnight oil, plus a set of tails and dancing pumps – back in an era when I thought I was king of the foxtrot.
The only echo of those distant times is that I still knot my own black bow tie – no clip-on for this old socialite.
Knotting a bow tie was an essential sartorial skill taught at naval school for anybody expecting a commission in Her Majesty's navy.
When my 7-year-old first saw me dressed up in a dinner suit, he said, "Wow Dad! You look important enough to be a mayor of a big city!"
I replied, "thank you son – as long as it's not Auckland".
The following day he pleaded with me to take him to school dressed again in my fancy suit to impress his schoolmates. Clearly, jeans, T-shirt and sneakers doesn't do it for him. He explained that wearing formal wear made me look "grown-up" and more like a "proper dad".
The caregiver has also noted that as I slip into my dotage, I don't appear to wear suits or ties anymore - even for board or business meetings, preferring casual comfort to formality.
"You could make a bit more of an effort," she muttered crossly, forcing me into a jacket when I was off recently to meet the Prime Minister.
"You were once such a dandy when it came to suits and ties," she sighed, staring in my wardrobe stuffed full of yesterday's Savile Row and Hermes clobber.
"Whatever happened to the Beau Brummell I once knew?"
"Well," I reminded her. "At least I'm still kicking.
"Look what happened to Beau Brummell – he died penniless from syphilis in a French lunatic asylum."
"So, in your case, there's still time," she responded, dryly, reminding me once again of my checkered past.