Baker reckons there's a place in the market for biscuits made just the way you'd make them at home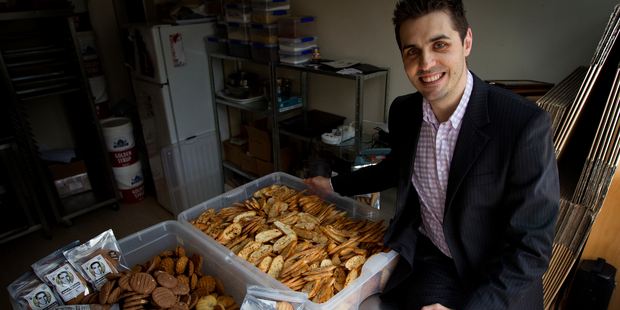 Serve up a batch of Andre Wike's biscuits and you could easily pass them off as your own home baking.
With their pantry-fresh ingredient list and handmade production, complete with the imprint of fork tines, Wike's biscuits are gaining a following among buyers who want home-made taste with store-bought convenience.
As Wike sees it, there is a gap in the market for high-end biscuits made with real ingredients and no preservatives.
He is baking up to 2000 traditional Kiwi favourites a day – chocolate chip, peanut brownie, ginger and Anzac biscuits, alongside crostini – under his Andre's Kitchen brand sold in Farro Fresh stores and Nosh in Mt Maunganui.
Not only are they proving a hit with cookie-lovers, his fresh-baked biscuits have caught the eye of judges at the New Zealand Food Awards. His ginger cookies won the bakery award in 2011, just 11 months after he launched the brand, and the peanut brownies and garlic crostini made the finals the following year.
"My goal is always to be the best baked cookie in New Zealand and I achieved that when I won that food award," says Wike.
The 30-year-old's biscuit brand may only be three years old but Wike is an old hand at mixing baking and business.
As a kid he sold cakes and biscuits around his neighbourhood to raise money for a school trip.
In his early 20s a biscuit-baking enterprise had him selling jaffa-topped chocolate chip biscuits to popular Auckland cafes, a venture that saw him appear on Dragons' Den New Zealand in a bid to get funding to grow the business.
He wasn't successful but says the taste of reality gave him "a kick in the pants".
Wike, a trained chef, folded the "jafabites" operation shortly afterwards and returned to chef work, admitting that a mix of youth and naivety meant he preferred partying with friends to doing the hard yards baking biscuits.
He cooked up the idea for Andre's Kitchen while working as a private chef for family friend and businessman Bill Foreman.
"I was always talking to him about my dream to make the best cookies in New Zealand."
Foreman told him to go for it and Wike says he still provides "honest, straight to the point" advice on new business ideas.
"You can pay for a mentor but you can't pay for five days a week being able to go and talk to him every day."
The other key ingredient in Wike's business has been his mother. A top baker herself, she not only gave him free rein in the kitchen as a kid but also helped when cashflow got tight.
It was her money that in the early days bridged the gap between settling with suppliers and receiving payment from retailers.
"My mum has been, honestly, the saviour of my business."
He has also converted the garage under her Grey Lynn travel business into a commercial kitchen, filling her offices and the neighbourhood with baking smells.
By his own admission, Wike isn't a morning person so his 12-hour working day stretches into the evening, with his last batch of 100 or so biscuits pulled from the oven at 9pm.
"It's a hard slog. I'm doing thousands of cookies a week now, literally thousands and thousands and I've 2000 to make today."
Baking up to five days a week and packaging the biscuits by hand takes up most of his time but he is also often on the shop floor getting people to taste bite-sized samples.
"Getting out there and doing tastings helps, it really, really helps," he says. "It's getting that relationship with actual end-of-line consumers."
Spruiking his wares was a skill honed at Takapuna's Sunday morning markets, the original outlet for his baked goods.
It was an opportunity to taste-test his biscuit recipes and Wike says he learned to take some of the less favourable feedback on the chin.
Even though it took well over two years for Wike to start earning decent money from his baking, he has never been tempted to head back to work in someone else's kitchen.
With talks in progress with the two supermarket giants – Progressive and Foodstuffs – and his kitchen running at capacity, Wike is preparing to take the next step to boost production.
Ultimately, he'd look to either contract out the biscuit-making or set up his own factory "but keep that quality".
Keeping the quality will mean retaining the traditional production methods of balling up and squashing down the mixture to form biscuits rather than the extrusion and cutting techniques employed by other biscuit manufacturers.
He has plenty of product ideas on the boil, including a range of mayonnaise and tartare sauces, and also has an eye on export markets - all of which would require a bigger kitchen and a bigger bank loan.
"I don't want to go into too much debt with too much uncertainty,"