Never mind the glossies fawning over celebrities; true-life tales are a sure-fire source of escapism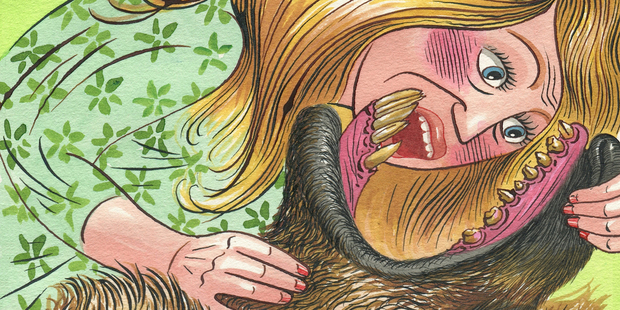 I presume few of us take what the Americans call "Hillbilly Heroin", officially known as Oxycodone, the pain reliever that has become alarmingly addictive to tens of thousands of people.
No, my paltry consumption of two, maybe three supermarket painkillers for their intended use in their intended form (not crushed, smoked or snorted through a $5 note) would hardly qualify me as a crack-whore.
But that doesn't mean I never need a fix – something to let me escape the sturm und drang of daily life. And for me, that relaxing little thrill can be met by picking up my copy of That's Life magazine, and flicking through a seemingly endless collection of stories about internet romance gone belly-up, dogs that saved their owners from being incinerated in house fires, and how to boost your sex life by selling Tupperware.
My husband won't be seen with me when I'm carrying a copy of my favourite magazine – snobbery, surely, from a person who won't miss a moment of X Factor.
And yet, I reckon my predilection for true-to-life-tales (favourite headline of last year: "I Gave the Kiss of Life to an Alpaca") is ahead of the curve.
New Zealand's top-selling women's mags now regularly contain a substantial "real life" section: women who have beaten obesity, or built a thriving business making ferret hammocks. It helps cut through the treacly stuff about local celebrities and their babies, heavily edited by agents and vetted by the celebs themselves.
New Zealand readers don't particularly want aspirational. We want to feel that every woman on the planet is like us, with similar hopes, dreams and layers of abdominal fat, and feel more comfortable if our local stars are complaining about, say, sleepless nights with a newborn, than the difficulties of maintaining holiday homes on three continents.
This antipodean approach is altogether different from what you'll find in a magazine that is celebrating 25 years of enormous sales in Britain this month: Hello! magazine. Hello!, famous for its huge spreads on perma-tanned, botoxed lovebirds and their impossibly fabulous lifestyles, prints precisely what the stars say it can and is like an unfiltered collection of publicity releases in long form.
Sometimes its contents are licensed to our women's magazines so we, too, may ooh and aah over the life of jet-setting luxury enjoyed by the landed gentry of England.
One mag featured the wedding of Sam Branson, son of Sir Richard, to Isabella Amaryllis Charlotte Anstruther-Gough-Calthorpe, on a game park in South Africa, where guests could enjoy Bush Olympics, bongo lessons, and a speech about the universe from an eminent physicist. Now if that's not class, I don't know what is.
Some say if British PM David Cameron had taken the recommendations of the Leveson inquiry seriously - meaning harassed celebrities would be left alone by large media conglomerates except on their own terms - the type of fawning coverage found in Hello! would become more common. Cameron doesn't seem to have gone in that direction but it doesn't mean agents and PR people won't increasingly be able to control what appears in the glossies.
Which is why, like me, more and more people are enjoying "real-life" escapism.
"My internet lover was a Congolese rent boy" or "My Cat Met Stan Walker", anybody?