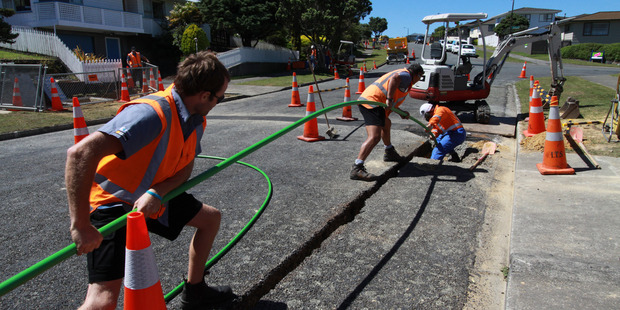 Chorus, the telecommunications network operator carved out of Telecom, will offer its premium copper-based service at a lower price from early next month as it seeks to fill in the gaps during the roll-out of the government-subsidised ultra-fast broadband network.
The Wellington-based company will cut its premium on Very high bit-rate Digital Subscriber Line (VDSL) services from June 7, making it cheaper for retail service providers to market much faster download and upload speeds on the ageing copper network.
The shift will align VDSL with Chorus' enhanced unbundled bitstream access, which accounted for more than half its broadband connections. Chorus had 3,000 broadband connections over VDSL as at March 31, up from 2,000 at the end of last year.
"Supporting the RSPs to offer their customers much faster broadband speeds today is an important stepping stone towards the fibre future," GM sales and marketing Victoria
Crone said in a statement.
"In some areas fibre will not be available until 2019, so in those regions Chorus VDSL provides an important interim step."
In 2010, the Commerce Commission upheld a decision leaving the VDSL services outside its regulatory purview, meaning Chorus, still under Telecom's umbrella, could charge a premium on the product, which was more appealing to the larger telecommunications retailers.
At the time, Telecom said the VDSL service would offer twice as fast download times, and upload times up to seven times the speed on ADSL2+ (Asymmetric Digital Subscriber Line) services provided on the copper network.
Chorus plans to offer VDSL as a stepping stone to its fibre products and will offer it in all regions until mid-2015. It will stop selling new connections once it completes its fibre build in regions where it won the government UFB contract, and will review the provision of the service if its hits fibre uptake.
The company lifted its fixed line fibre connections to 17,000 in the March quarter from 15,000 at the end of December.
The decision to review that pricing came after discussions with industry and is expected to help meet the growing demand for faster services and whet retailers' appetite for fibre when it arrives.
Last month, the company said it had completed construction work to take fibre past about 116,000 premises by the end of March, having passed 88,590 premises as at December 31. It's aiming to pass 149,000 by July.
Chorus won a $929 million subsidy from the government to build most of the ultra-fast broadband network after Telecom agreed to structurally carve out the network operator.
The company said the VDSL technology also holds potential for improving rural broadband services, with more than half of the 400,000 premises outside the UFB areas within reach of the faster service, and will likely lead to the network company installing more cabinets capable of accessing the technology in those areas.
Chorus shares gained 1.1 per cent to $2.75 yesterday, having shed 7.5 per cent this year. The stock is rated an average 'hold' based on nine analyst recommendations compiled by Reuters with a median target price of $3.13.