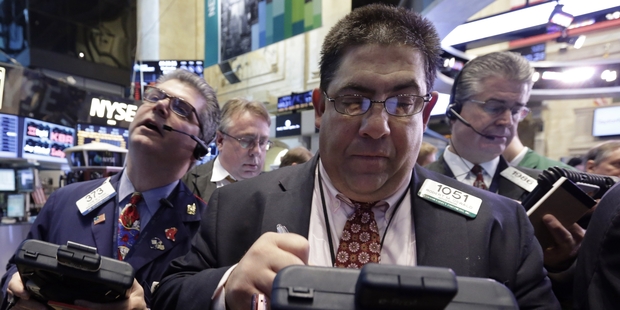 Wall Street resumed its climb to new records, underpinned by the confidence that central banks around the world are supporting growth.
Financial stocks including Bank of America and Citigroup received a boost from billionaire hedge-fund manager David Tepper who called US banks "a good sector" in an interview with CNBC. Shares of Bank of America were up 2.3 per cent, while those of Citigroup gained 2.2 per cent.
Tepper is optimistic about the stock market in general. "I'm definitely bullish," he told CNBC.
The Dow Jones Industrial Average touched a high of 15,192.04, while the Standard & Poor's 500 Index reached a record 1,649.71 earlier in the session.
In afternoon trading in New York, the Dow advanced 0.52 per cent, the S&P 500 climbed 0.88 per cent and the Nasdaq Composite Index increased 0.42 per cent.
"The developed economies of the world are all easing aggressively, the money is looking for a home and it's ending up in the stock markets," Bucky Hellwig, senior vice president at BB&T Wealth Management in Birmingham, Alabama, told Reuters.
As stocks continue to gain appeal, fixed-income securities are losing their shine. Yields on 10-year US Treasuries climbed to the highest in seven weeks.
"Stocks are hitting new highs because they believe the economy is getting better," Michael Franzese, senior vice president of fixed-income trading at ED&F Man Capital Markets in New York, told Bloomberg News. "It's diverting money out of the Treasury market."
Meanwhile, the US budget deficit will narrow this year to US$642 billion, according to a report by the nonpartisan Congressional Budget Office. That is down from a February estimate for a US$845 billion deficit for the 2013 fiscal year and would be the smallest shortfall in five years.
While the decline in the deficit is positive, the CBO said America must still find a way to control spending later in the decade when an aging population will put more pressure on pension costs and health services.
In Europe, the benchmark Stoxx 600 Index finished the session with a 0.4 per cent increase from the previous close. The UK's FTSE 100 rose 0.8 per cent, while France's CAC 40 gained 0.4 per cent.
The DAX climbed 0.7 per cent to close at a record, even as the latest data on German investor confidence proved disappointing. The ZEW Center for European Economic Research in Mannheim said its index of investor and analyst expectations rose to 36.4 in May from 36.3 in April, falling short of economists' forecasts.
The appeal of Spanish debt is rising. Spain sold 7 billion euros of a new benchmark 10-year bond through banks after the nation auctioned 12-month bills at a yield of less than 1 per cent for the first time in three years, according to Bloomberg.