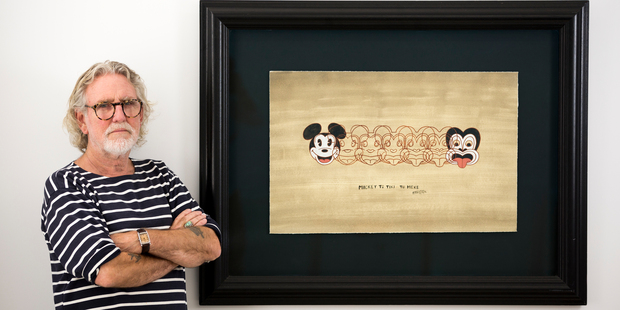 Dick Frizzell believes he lost more than $100,000 as the official artist of the Rugby World Cup but says he's not bitter. Frizzell said accepting the gig was the worst investment decision he'd ever made.
Frizzell said he produced seven images as part of the deal, including a rugby ball-shaped tiki, the Kia Kaha Kid and a collage of inspirational words that look like road signs.
The images appeared on Rugby World Cup 2011 apparel and the prints were also sold in a limited run of 300.
Frizzell said he and his art dealer were promised extensive marketing which was never delivered so they were left to cover the advertising and other unforeseen costs.
"It was presented to us in a way that all those things would be covered by the existing databases of the major sponsors."
There were also a lot of rules which weren't made clear before Frizzell took the role, including not being able to mention the All Blacks.
"If I'd been able to make portraits of Richie McCaw and things like that, they would have sold.
"I think I did a pretty good job, but it [the work] just didn't connect. You have to connect it with the people."
Frizzell was awarded the role after his name was brought up in discussions by officials and he was approached. The artist and his art dealer have almost made their money back through selling packages of the World Cup work and other projects.
Former chief of the Rugby World Cup 2011, Martin Snedden, said the organisation he ran had nothing to do with the commercial licences and that he had no commercial relationship with Frizzell.
NZ Rugby and the Government were shareholders in the tournament but neither was involved in the commercial licensing agreements.
The licensing business was run by the International Rugby Board subsidiary Rugby World Cup Ltd.
By the time this paper went to print, the IRB, which is based in London, had not replied to the Herald's request for comment.
NZ buyer pays big money for Kiwiana classic
Owning a slice of Kiwiana has cost one art buyer more than $110,000.
Dick Frizzell's famous Mickey to Tiki Tu Meke watercolour, that depicts Mickey Mouse morphing into a tiki, sold for $110,215 on the Ocula Black art market website last night, including fees.
The winning bid went to a punter identified only by his online profile username, "snorky".
Ocula Black co-director Chris Taylor said the buyer was a New Zealander who lived in the country, and did not have a high profile.
"It's an exceptional price but it's also an exceptional work of art," he said. "We're dealing with probably one of the most well-known works of art in New Zealand ... and that result reflects those characteristics so it's quite remarkable."
When told what his painting fetched, Frizzell said: "I'm going to have to go around and dig up a few other originals."
The painting originally went under the hammer for The Life Education Trust charity in 1995 for $4000.
"The guy who's selling it is actually a mate of mine ... and I think he owes me a nice lunch," said Frizzell.
"I have no idea who the buyer is, I would like to think it was Te Papa but I don't think so. I would have loved for it to go into a national collection."
The Auckland-based artist had been keeping tabs on the auction since it was listed last month.
When created, the painting was deemed by some as culturally insensitive but Frizzell said it reflected New Zealand identity at the time - that culture flowed both ways and that Pakeha people had a stake in things Maori and could be proud of it.
- Morgan Tait