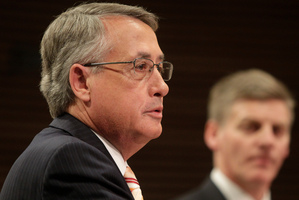 The Australian Government faces an uphill battle to sell the Budget unveiled by Treasurer Wayne Swan last night, with its credibility already undermined by two key questions.
First is the use of 10-year planning forecasts to map out a return to surplus, lay the groundwork for long-term strategies and lock in the new national disability insurance scheme and education reforms.
Critics have attacked Swan for his inability to correctly forecast plunging revenues and the impact of a continued strong dollar that wiped out last year's promise of four years of surplus.
"I think it's important that he focuses on getting this year's numbers right and not deliver us a decade of deceit with 10-year numbers that are, in his own words, barely believable, because it was just a month ago that he cast doubt on the reliability of 10-year forecasts and now is expecting us to believe them," shadow treasurer Joe Hockey said.
The other significant question is how much of the Budget will survive the September 14 election, which polls indicate Labor will lose by a landslide.
The Opposition has yet to reveal what it intends, apart from pledges to repeal the carbon and mining taxes.
Swan said his Budget gave priority to jobs and economic growth, laid out a pathway to a return to surplus and made the smart investments Australia needed for a productive future.
"This will be a Budget that ensures Australia can remain the envy of the rest of the world."
But Swan said the dramatic fall in revenues that had driven the Budget into deficit had meant critical choices.
These included the deferral of corporate tax cuts, a promised increase in family tax benefits and an increase in the tax-free threshold planned as part of a package to compensate households for higher living costs associated with the carbon tax.
That was derailed by the dive in Europe's carbon price. The failure of the mining tax to reap more than a fraction of the revenue originally estimated by the Treasury has also hit the Budget hard.
The Medicare universal health system levy will be increased by 0.5 per cent to help fund the disability insurance scheme, and A$2.3 billion ($2.8 billion) will be pruned from universities to help pay for education reforms.
The introduction of a 15 per cent tax on previously tax-free superannuation earnings over A$100,000 a year will save another A$900 million over four years. The public service faces cuts of A$580 million over four years, with a further A$3 billion cut from foreign aid.
But there will be gains, including roads funding of about A$3 billion for politically important western Sydney, and more than A$20 million for prostate and breast cancer screening and research programmes.