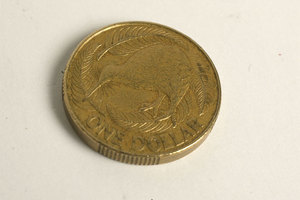 The New Zealand dollar declined after better-than-expected US retail sales added to confidence the world's largest economy is expanding, reducing demand so-called growth assets outside of the US including the kiwi.
The kiwi dollar fell to 82.53 US cents from 83.05 cents yesterday. The trade-weighted index weakened to 77.19 from 77.67.
A report late yesterday showed US retail sales posted a surprise gain of 0.1 per cent last month, compared with expectations of a 0.3 per cent drop and a 0.5 per cent decline in March. Core sales, which correspond most closely with consumer spending in the government's measure of growth domestic product, increased 0.5 per cent.
The latest report follows signs of sturdy job growth in the US over the last three months, helping to allay fears of a slowdown in the world's biggest economy.
"There's a view that maybe US growth will become confirmed by the end of the year," said Sam Tuck, senior manager FX at ANZ New Zealand.
"It reinforces the idea that the US economy is performing a little better than what we had thought."
The New Zealand dollar has been supported by investors borrowing in low-interest rate economies in the US, Europe and Japan and investing in higher-yielding New Zealand bonds.
"People are speculating that trend is at an end," Tuck said.
Still, the kiwi will likely find support should separate reports out today show strong New Zealand retail sales and that overseas demand for New Zealand bonds continued in April.
Retail sales volumes are forecast to have edged up 0.8 per cent in the first quarter, according to a Reuters survey of eight economists. ANZ expects a 1 per cent gain.
"That may arrest the New Zealand dollar decline," Tuck said.
Weaker than expected data would add to the downward momentum, he said.
Traders will be watching further US data out this week for signs of a sustained improvement in that economy. That includes reports on April industrial production, a speech by Federal Reserve Bank of Philadelphia President Charles Plosser, and reports on inflation and household debt.
The New Zealand dollar fell against is Australian counterpart to 82.78 Australian cents from 83.07 cents at 5pm yesterday. The kiwi dropped to 83.94 yen from 84.49 yen, and slid to 63.49 Euro from 63.99 Euro. It weakened to 53.85 British pence from 54.09 pence.