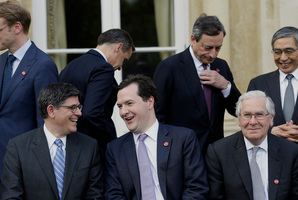 The Group of Seven top economies is committed to "nurturing" world economic recovery, British finance minister George Osborne said at the weekend after a meeting of the international body that also pledged to further slash countries' huge public deficits.
"Overall, our discussions over the past two days have reaffirmed that there are still many challenges to securing sustainable global recovery, and we can't take it for granted," he said in Aylesbury, northwest of London.
"But we are committed as the advanced economies in playing our part in nurturing that recovery and ensuring a lasting recovery so that we have prosperity in all our countries."
The Chancellor of the Exchequer was speaking after a two-day informal meeting of G7 finance ministers and central bankers aimed at striking a balance between supporting fragile economic recovery and slashing government debts.
Osborne said the discussions had revealed more areas of agreement between the member states than is assumed, amid pressure from the United States for Europe to scale back deep austerity measures.
He also told reporters after the Aylesbury talks that the G7 ministers had agreed on the "importance of collective action" to tackle tax evasion, which Britain has made a priority of its presidencies of the G7 and the G8.
The G7 comprises Britain, Canada, France, Germany, Italy, Japan and the United States. The G8 is the G7 plus Russia.
The gathering, also attended by top representatives from the European Union and International Monetary Fund, built on last month's wider Group of 20 meeting while looking ahead to next month's G8 summit in Northern Ireland.
Osborne said on Saturday the G7 had "discussed the importance of having in place credible, country-specific, medium-term fiscal consolidation plans for ensuring sustainable public finances and sustainable growth".
The chancellor added: "This meeting confirmed there are more areas of agreement between us on fiscal policy than is commonly assumed."
The IMF, while welcoming government efforts to reduce spending, has urged Britain to lessen the pace of its austerity programme to support the country's fragile economic recovery.
Federal Reserve chairman Ben Bernanke, who did not attend the G7 meeting, sounded a note of caution on Friday about the record-setting rise on Wall Street as the Fed holds its near-zero key interest rate and pumps US$85 billion ($102 billion) a month into bond purchases to support a weak economic recovery.
"In light of the current low interest rate environment, we are watching particularly closely ... forms of excessive risk-taking," he told a Chicago Fed conference.
Osborne noted on Saturday: "Financial market sentiment has improved and there are signs that this is feeding through to an improved outlook in some of our economies.
However, global recovery could not be taken for granted.
-AAP