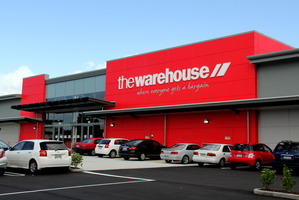 Warehouse Group, the country's biggest listed retailer, boosted third-quarter sales at its Red Sheds and stationery outlets, and has kept its annual guidance unchanged.
Sales, excluding recent acquisitions Noel Leeming and Torpedo7, rose 6.2 per cent to $418.7 million in the three months ended April 28 from the same period a year earlier, the Auckland-based retailer said.
Including the appliance retailer and online group, sales from continuing operations were $557.1 million.
The Warehouse kept its annual adjusted profit guidance at between $73 million and $76 million.
The Red Sheds lifted sales 5.1 per cent to $355.6 million, while Blue Shed stationery revenue gained 13 per cent to $63.1 million. Noel Leeming contributed $133.1 million in continuing sales and Torpedo7's preliminary sales were $5.3 million. The discontinued Bond & Bond stores reported sales of $12.4 million.
"The long-term strategy outlined 18 months ago is starting to deliver improved results for shareholders," chairman Graham Evans said.
"Our product brand optimisation strategy has already resulted in the ranging of major brands such as Sony, Acer, Hoover and Kambrook in The Warehouse stores, with further brands to be introduced during the year."
Shares closed up 1c yesterday at $4.39.