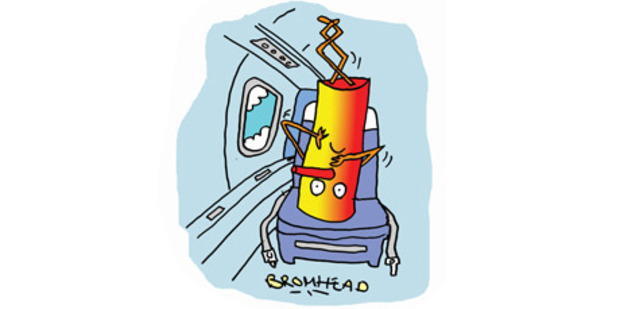 I don't understand yoga.
Stretching muscles in the hope of acquiring some vague spiritual nirvana is beyond me.
Physical exercise has always left me mystified, from my earliest schooldays.
I could never haul myself up ropes, jump over gymnasium horses or manage press-ups - no matter how many times a fearful instructor barked at me.
I recall a terrifying chief petty officer yelling, "Cadets who can't touch their toes are doomed to die early - the spineless never live long".
With my 80th birthday looming, I feel some justification in suggesting his predictions were possibly flawed.
Faced with turning into an octogenarian brings me back to yoga.
The caregiver is sending me off on some mysterious long-haul trip as my big birthday treat. In this case, what constitutes a "treat" is clearly in the mind of the giver.
My idea of a big birthday treat is to be packed off to the bach and spend the time driving truckloads of garden rubbish to the local municipal dump.
Instead, I'm facing a surprise trip - presumably to some exotic capital to have my Amex card ruthlessly clipped in exchange for bad food.
The thought of being stuck yet again in an aluminum tube in seats barely 43cm wide, with only a sliver of leg-space, already has me muttering ungratefully about the drudgery of flying long-distance and potential thrombosis issues. My pessimism has been ignored.
Instead, the caregiver has suggested I should practice yoga for the plane journey.
"Teach yourself to fold up your body like origami in a plane seat and you'll have no physical problems," she advised firmly.
"The idea of a tall, pot-bellied geriatric with size 15 feet, trying to fold himself up like origami would probably trigger a mid-flight emergency alert," I glumly observed.
I have now been given a list of exercises for yoga novices to practice at high altitudes.
With names like "tree pose" and "downward dog", I've concluded I'd rather die of a brain haemorrhage than try to contort my body into some bizarre pose in the restricted confines of an airliner aisle.
However, from my seat, I will continuously practise one particular exercise involving moving my arm slowly upwards in the general direction of my mouth.
Drinking copious amounts of alcohol is a well-tested relaxing activity that always works for me on long-haul flights.
Shame it hasn't got a gibberish yoga name, like "the golden upward path to tranquillity".