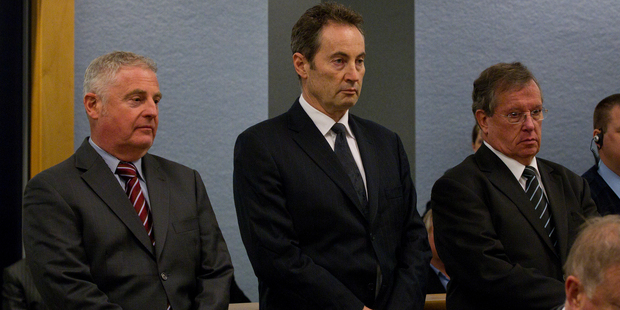 A civil claim launched by Capital + Merchant's receivers against the failed finance company's trustee has indirectly led to the Government tabling a law change.
Receiver KordaMentha has filed action against Capital + Merchant's trustee, Perpetual Trust, for an alleged breach of duty.
This created a conflict of interest for Perpetual, which appointed KordaMentha as second receivers of the company in November 2007.
Because of the claim, Perpetual is attempting to resign as trustee and be replaced by the Public Trust, the Herald understands.
Public Trust is New Zealand's sole Crown-owned trustee company and has more than $35 billion under supervision.
It is believed the proceedings, deciding whether Public Trust will replace Perpetual, are to be heard by the High Court next month.
But the risk this case could set a potential precedent led to Justice Minister Judith Collins introducing a law to Parliament yesterday.
Collins said an outdated 57-year-old rule in the Trustee Act meant trustees of failed finance companies - like Capital + Merchant - could apply to have the Public Trust replace them.
"It's simply not acceptable for trustees who wish to retire or resign, to pass their responsibilities to the Public Trust and the taxpayer, with huge and unrecoverable costs".
According to a statement from Collins there are 60 failed finance companies in receivership, liquidation or moratorium and Perpetual is trustee of 22 of those firms.
"This law change does not apply to the proceedings or outcome of the Capital + Merchant case, as that would be unfair," Collins said.
"However, if that case set a precedent, Public Trust could find itself lumbered with significant unexpected costs and a hugely increased workload," the minister said.
Collins' proposed law - called the Trustee (Public Trust) Amendment Bill - says a retiring trustee must first try to appoint another replacement before seeking Public Trust's appointment.
If Public Trust is to be trustee, the retiring entity must cover Public Trust for its reasonable fees and expenses, if they cannot be paid otherwise, Collins' statement said.
The proposed legislation is temporary measure until the introduction of the Financial Markets Conduct Bill (FMCB), which is expected to come into force, if passed, later this year.
Under the FMCB the Financial Markets Authority would take over the role of determining the replacement trustee, Collins statement said.
Capital + Merchant Finance collapsed owing 7000 investors around $167 million.