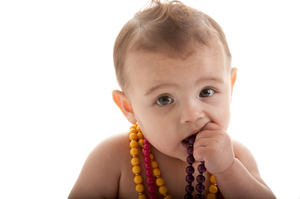 Parents desperate to ease the pain for their teething babies by buying special amber necklaces may have been taken in by unproven therapeutic claims on a website that sells the jewellery, the Advertising Standards Authority says.
A complaint was made to the authority by M Hanna that the website advertising the beads made unsubstantiated therapeutic claims that mislead their customers.
The website, www.babyamberteething.co.nz, said amber was a "great pain reliever for babies when first teeth are growing".
It went on to say the fossilised resin lowered body temperature, was good for breathing and improved the immune system.
"There is no mystic in Baltic amber, just huge amount of succinic acid which has anesthetic and anti-allergic characteristics," the website said.
"The amazing quality of amber is ionization which helps protecting human body from various magnetic fields (amber absorbs some waves, including radioactive ones)."
The complainant said the amber might make beautiful jewellery, but there was no evidence it also had therapeutic qualities.
The ASA said the website's claims required substantiation from the advertiser, but it failed to respond to the request from the authority.
"As no response from the advertiser was received, the Complaints Board held the advertisement was misleading and had not been prepared with the high standard of social responsibility required for products with intended therapeutic use, and affected a breach of...the Therapeutic Products Advertising Code."
It upheld the complaint.
A complaint to the authority by the same person about a different website, www.bellybeyond.co.nz that was advertising the same amber necklace was settled because the website took down statements about the product being a remedy or having pain relieving qualities.
The website, selling the necklaces for $29.95, also said the necklace had immune boosting properties, and released "trace amounts of healing oils", M Hanna said.
The ASA said it acknowledged changes had been made to the website.
- APNZ