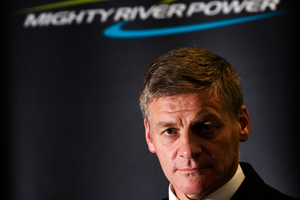 The Government has secured a mid-range price for its sale of Mighty River Power shares but just one in four of those who pre-registered ended up buying shares.
Finance Minister Bill English and State-Owned Enterprises Minister Tony Ryall confirmed Mighty River's share price would be set at $2.50 per share - at the lower end of its $2.35 to $2.80 range.
But of the 440,000 individual Kiwis who pre-registered their interest just 113,000 ended up buying shares.
That is well below the 220,000 who bought shares in Contact Energy when it floated in 1999.
Of the shares issued 86.5 per cent will remain New Zealand owned - 26.9 per cent will go to retail investors and 8.6 per cent to New Zealand institutions.
The Government will keep 51 per cent but 13.5 per cent will go to overseas institutional investors - a proportion that is likely to upset local institutions.
English said it was an outstanding result which fulfilled the Government's commitment to ensure at least 85 to 90 per cent of the company was in New Zealand ownership.
"The share offer will raise $1.7 billion, which is a very good return for New Zealand taxpayers. Those proceeds will go into the Future Investment Fund, allowing the Government to control debt while continuing to invest in public assets. More details will be announced in next week's Budget.''
The Government had hoped to raise up to $1.9 billion from the partial sell-down.
English said the Government had achieved all of its objectives for the Mighty River Power share offer, so the company would list on Friday. It will have a total value of $3.5 billion.
Ryall said demand meant there would be some scaling but more than 80 per cent of New Zealanders would get what they applied for.
Trading will be available from 12.30pm on Friday _ a time that has been aligned with the opening of the Australian stock market where Mighty River is also listed.
Hamilton Hindin Greene client adviser James Smalley said he expected there to be strong turnover on the first day but believed it would be mainly driven by institutional investors.
Retail investors may not be so quick to come to market to sell because of the bonus share offer which doesn't kick in until they hold the shares for two years.
Smalley said there could also be a lag from retail investors wanting to sell until they get confirmation of how many shares they are getting.
Investors will be able to check their share allocation either online or by phone on Friday but aren't expected to receive a letter confirming details until next week.
First-time share market investors may not be able to trade until they get their Faster Identification Number (FIN) in the post.
Smalley said under security and privacy law FIN numbers were not able to be given out over the phone although investors could ask their broker to find out the number for a fee.
Mark Lister, head of research at Craigs Investment Partners, said he didn't expect much selling activity from the general public on Friday, although anyone would be able to buy shares on the secondary market.
"It may be people who feel they haven't got as much as they would like will go and buy more.''