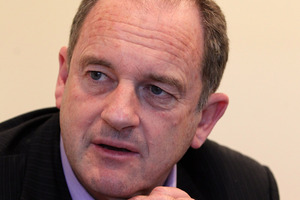 Next week's Budget will be a Budget for the board room, not the smoko room, says Labour leader David Shearer.
National spent more time looking after its vested interests than others, he told a meeting of 100 Labour Party faithful in Brooklyn, Wellington this morning.
"It's too busy doing backroom deals with gambling houses and movie giants to make sure hard-working New Zealanders have the wages they need to live on.''
Prime Minister John Key was not interested in problems faced by hardworking families.
"He's more focused on his mates than your mates.''
Mr Key was more interested in working for investment bankers, casino operators and property speculators, the Labour leader said.
The Government was too busy protecting the super-profits of power companies to worry about bringing your power bills down.
Mr Shearer said his mechanic earned a decent income but had not been able to give himself a pay rise for the past four or five years.
"He's being squeezed like many other hard working New Zealanders.''
Mr Shearer talked abut a woman who wrote to him this week who had just had her first baby, and she wanted to do her best by her new family.
But she told him she felt "physically sick'' with worry each time she checked her letterbox for the power bill.
Labour's new power policy - establishing a single buyer for the wholesale market that would pay according to the cost of production - would change that and put money back in the hands of people struggling to make ends meet, Mr Shearer said.
Labour says its policy would cut household power bills by between $230 and $330 a year.
Mr Shearer said a Labour Government's first Budget would be about hope.
"As Prime Minister I want to create and build - not just trade and sell.''
Referring to Mr Key's comment in Auckland last week that Wellington was "dying'' Mr Shearer said it was hard to beat Wellington on a fine day.
"It's hard to beat Wellington, fullstop.''