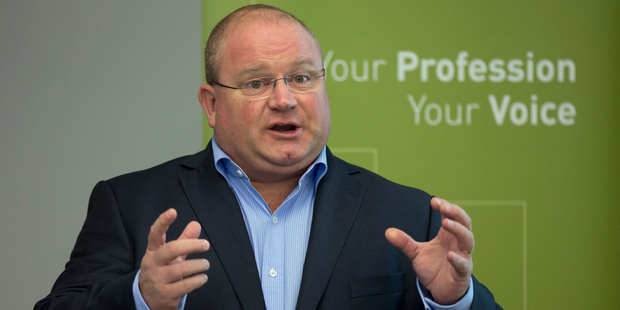 Craig Norgate reckons he's done his dash in the agriculture industry, but the former Fonterra boss - who went on to help consolidate the rural services sector through the creation of PGG Wrightson - says he'd happily step back into another major corporate role.
"What I miss is the 24/7 focus on one thing and leading a team of people to achieve that," he said.
Norgate took over as chief executive of the New Zealand Institute of Chartered Accountants in December, largely to oversee a merger of the organisation with its Aussie counterpart, the Institute of Chartered Accountants Australia.
The merger would create a new transtasman organisation if approved by members.
Details of the merger were announced yesterday and 48-year-old Norgate, a veteran of major corporate mergers including the 2001 creation of dairy co-op Fonterra, said he had committed 12 months to sorting "the future of the institute out".
He and his wife Jane - who have been "empty nesters" since their daughter left home to go to university in Queensland last year - are planning to head overseas, possibly to Asia, once his time with the institute is up.
"When you've run Fonterra, there's not much you can do in New Zealand."
Norgate is keeping an open mind about where he might go, or which sectors he might get involved in as a chief executive.
"I'm looking at various things - anything but dairy and agriculture," he said.
"I do like businesses with a heavy people focus, both at the customer and staff end - businesses that actually make and sell things rather than make things up, if you like."
While he had looked into relocating to Europe or China, Southeast Asia was also a possibility.
Norgate said he still felt disappointed about the way things turned out with the agricultural ventures he established after being dropped by Fonterra in 2003 - such as the 2010 receivership of Rural Portfolio Investments, a 50:50 joint venture with Otago's McConnon family, and PGG Wrightson's failed bid to buy half of Silver Fern Farms in 2008.
PGG Wrightson, which had a market capitalisation of around $620 million in 2005, was valued at just $286.8 million yesterday.
"What we can be proud of is what we created with PGW and the fact it's still there today.
"It was quite a difficult environment with the global economic crisis and the banks wanting everybody to recapitalise."