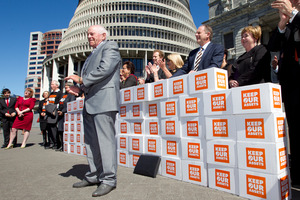 The Grey Power-led and Labour and Greens supported petition to force a referendum on the Government's partial asset sales policy has failed because it did not have enough signatures.
However, the "Keep Our Assets" coalition has not given up and says it will continue to collect signatures.
Parliament's Clerk of the House Mary Harris this afternoon said she had certified that the petition had lapsed because she could not be sure minimum number of signatures required by law had been met.
The petition needed the signatures of 10 per cent of voters to succeed which the Electoral Commission said worked out to 308,753.
But Ms Harris said that following a counting and sampling and checking process she found the petition was short by about 16,500 valid signatures.
The organisers of the petition presented it to Parliament in March claiming they had 393,000 signatures.
But Ms Harris this afternoon said some of the signatories could not be found on the electoral roll, "either because they were not enrolled or because the identifying information they supplied was insufficient or illegible".
"Some duplicate signatures were also identified."
Ms Harris said legislation allowed the organisers a further two months to collect additional signatures.
Grey Power national president and Keep Our Assets coalition spokesman Roy Reid said the coalition was committed to finishing the job.
"We have two months to collect the remaining signatures. History shows that most petitions require a second go to get across the line.
"Three out of the four previous citizens initiated referenda have had to go back to get more signatures after the initial count.
"Of those petitions that required more signatures, two of them needed more than ours, so we are happy there it is only a small number of signatures left to go and that on the second go the referendum will happen.
"The asset sales are still unpopular and economically foolish. The collapse of Solid Energy's value and the Government's willingness to push ahead with the sale of Mighty River Power regardless of market conditions shows the Government isn't listening.
Labour's SOE spokesman Clayton Cosgrove said his party would redouble its efforts to help get the remaining signatures.
"New Zealanders are overwhelmingly opposed to the Government's plans to sell our assets. Labour MPs hear it every day. We are absolutely committed to working with the Keep Our Assets coalition to gather the number of signatures needed to ensure Kiwis have their say."
He said it was not unusual to have signatures on petitions ruled out because people aren't enrolled or have filled in their details incorrectly.
"However there are still almost 300,000 people who have voiced their support for a referendum. We will work to ensure their voice is heard."
But Prime Minister John Key said Labour and the Greens had misled the public over the petition and should accept defeat and give up on it.
"Despite Labour and the Greens using taxpayer resources to try and present a petition to Parliament, they've essentially rorted the system and presented a petition with 101,000 bogus signatures - either people that don't exist, made up people, children, people not on the register.
"They haven't really cared about the rules. They've now presented a petition where one in four people on it either don't exist or aren't registered to actually sign the petition and they should withdraw the petition now, give up, pack up their tent and admit that they actually tried to mislead the New Zealand public.''