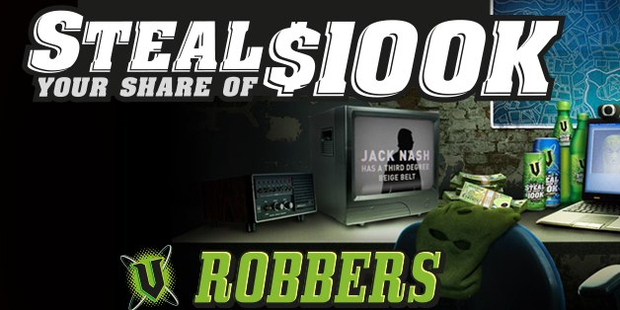 An energy drink advertisement which claimed 'Good things come to those who steal' has been deemed socially irresponsible for trivialising theft.
The Advertising Standards Authority has upheld a complaint against the promotion for V Energy drink's online game 'Robbery'.
Campaign posters for the game featured the headlines "Robbery is the best policy", "Steal from the rich and give to you", or "Good things come to those who steal".
Posters also said players could "Steal their share of $100k".
The complainant, R Pitch, said the ads were offensive and tried to make stealing socially acceptable.
"Frucor fail to understand how a campaign such as this risks desensitising the word and the concept and debasing the work and campaigns by the police and other agencies."
Frucor Beverages responded that it was not their intention to encourage illegal or unethical behaviour. The campaign promoted an online game where players attempted to crack a safe to steal the e-cash of other players. At the end of the game any players with e-cash left would be awarded that amount.
Frucor said the advertising did not encourage "real world" stealing and was clearly a tongue-in-cheek, humorous play on words.
A majority view of the authority found the headlines were the prominent message in the posters, and gave the appearance of endorsing socially irresponsible behaviour.
A minority held that the posters promoted a virtual game and did not encourage stealing or dishonest behaviour.
The authority did not agree the ad was offensive, but upheld the complaint in relation to principal 4 of the code of ethics, which requires advertisements to be prepared with a due sense of social responsibility.
- APNZ