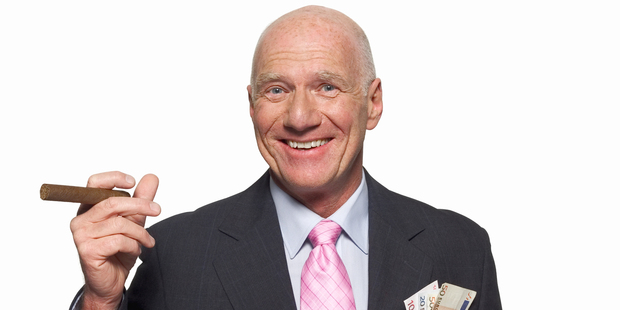 MUCH MORE MONEY
A US chief executive takes home 204 times as much money as one of their workers, on average, the Bloomberg news agency revealed this week, after crunching the numbers for the companies in the S&P500 index. Four years ago, the boss-to-worker pay ratio was just 170 times. Which got the Insider thinking: what about NZ? It's not quite the same thing, but the 50 chief execs surveyed in the latest Herald survey got about $1.5 million a head in 2011 - roughly speaking, a mere 28 times as much as an average full-time worker.
CASH FLOW BONANZA
In banking, it seems the era of excess isn't finished yet. The chief executive of Spanish bank Santander, Alfredo Saenz, who announced his resignation this week after a long-running dispute about his past legal troubles, will walk away with pension entitlements totalling - wait for it - €88 million ($135 million).
NAME GAMES
"Purple Sherbet wins Elephant Training and HR account" - that was the heading on a press release that landed in the inbox this week. Sensing a newsworthy breakthrough in the field of animal education, the Insider was disappointed when closer examination revealed the news had nothing whatsoever to do with pachyderms, sherbet, or the colour purple. It's just another case of creative company naming run amok: Purple Sherbet is a PR firm; Elephant Training is in the human resources business. Obvious, really.
DIPLOMATIC PRIORITIES
New Zealand's ambassadors are returning home next week for their first gathering since the infamous meeting to outline the restructuring of the Ministry of Foreign Affairs and Trade. This gathering is likely to be a bit more cheerful than the last, as the envoys' less-than-diplomatic rebellion helped water down the changes. There is expected to be grumbling from some about the amount of money and political capital being thrown into Asia, and in particular China, at the expense of other regions. Now that Tim Groser's bid to head the WTO has fallen by the wayside, the diplomats will be urged to put more energy into supporting New Zealand's bid for a place on the United Nations Security Council.
AGREEMENT TO AGREE
Some trade-watchers are getting suspicious about the rash of agricultural trade agreements signed with China in recent weeks. The Ministry of Business, Innovation and Employment has just announced up to $600,000 will be invested in joint research projects with China on food safety and security, and water research. This follows the signing of the "strategic plan for agricultural co-operation" and the "collaboration framework agreement". The suspicion is that the rather vaguely worded agreements might represent something sinister, such as the possible loss of intellectual property rights. The truth is probably just a bit more prosaic, as Chinese politicians just love to sign "agreements". Officials have to go to some lengths to find things to agree to, and usually they don't mean too much - unless the clever Chinese really have pulled one over us.
COSTLY COMMUNICATING
Treasury officials have been benchmarking the performance of almost 30 government agencies, looking at their administrative and support costs. In general, they have found modest improvements, once inflation is taken into account. There are a few surprises, though. Spending on communications increased from $39 million to $46 million between 2009 and last year, while spending on strategy and planning fell from $25 million to $20 million. The State Services Commission, which is meant to lead by example, also needs to get its house in order, as its spending on communications was at the upper end of the spectrum. It spent $3893 per full-time employee on communications, and its human resources costs were the highest of the agencies monitored, at $6972 per employee.
A WIN AT LAST
Aaron Bhatnagar has been appointed to the Real Estate Agents Authority. As Justice Minister Judith Collins noted in announcing the appointment, he is experienced in investment management, having managed a large property portfolio; he is also a National Party identity who has unsuccessfully sought the Epsom and Botany nominations.
A WORD FOR IT
Kiwi media flew to Sydney on Wednesday for a gathering in Point Piper, and the chance to rub shoulders with actor Ewan McGregor (Trainspotting, Moulin Rouge, Star Wars) who has the job of "brand ambassador" for electronics company LG in Australia and NZ. Australian reports reveal that McGregor takes a down-to-earth approach to this marketing business: asked what his message was, he replied "just to say that they're f****** good tellies".