Get the quality right and look after the customer, and the business side will look after itself, says cafe veteran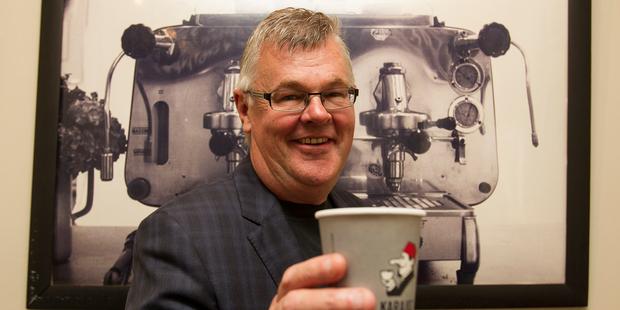 By his reckoning, Derek Townsend made two million cups of coffee before he stopped counting.
Townsend has been behind the espresso machines at some of Auckland's best-known and busiest cafes of the past few decades and has, since 1997, been roasting coffee beans under the Karajoz brand.
His introduction to coffee came as a student in the late 70s, sitting in a small Italian restaurant on Auckland's Victoria St watching coffee being made with a 1950s era coffee machine.
"I never used to drink coffee but I used to sit there looking at that machine and it really fascinated me," Townsend says.
Returning from OE in Europe, where he saw disparate people rubbing shoulders at little local cafes, he sought to replicate that egalitarian style in 1980s New Zealand.
Despite knowing nothing about coffee, food or how to run a business, Townsend and a couple of mates threw open the doors of central Auckland cafe DKD.
They pressed into action that coffee machine he'd admired at the Italian restaurant on Victoria St, by then languishing in a garage and in need of urgent repair.
DKD attracted everyone from junkies and street preachers to richlisters and cops, but Townsend says the intensity almost drove him mad and he bowed out after a couple of years.
Following a stint as an artist, his next venture was a cafe in the Remuera branch of Kings Plant Barn.
While the early days of DKD weren't particularly lucrative, here Townsend honed the art of getting food and coffee out to the lunchtime crowds.
"It was logically realising: how do you do this, how do you serve all these people, keep the price down and make a dollar out of it?"
In the early 90s, when Sir David Levene wanted a food outlet to go in his planned Newmarket megastore, he initially considered a McDonald's but was told to open a cafe instead and shoulder-tapped Townsend.
Not only did Cafe Extreme thrive, but it was where Townsend really started learning how to make money.
He credits advice passed on by Sir David, who he describes as a genius with a deep love of business, and his business adviser Bob Stephens.
"Those old school guys are really happy to pass on their knowledge to young people and they do it for the reason of just, as I said, Mr Levene just loves business and he especially loves young people doing stuff. That's what turns him on, it's not just making another million."
Now, 18 years down the track, Stephens is still a business mentor to Townsend.
"To be honest he's become to me like a father figure ... and like that you have a relationship.
"Do we go to the pub and have a few beers? No we don't. We're always talking business basically."
About 70 per cent of business at Cafe Extreme was selling coffee and Townsend wanted it to be perfect.
"I was really strict with the coffee. I had a simple formula: superb, excellent quality, excellent service at a fair price.
"It is simple but I don't think many people achieve it. You always water it down."
Although coffee in New Zealand had come ahead in leaps and bounds since the DKD days, Townsend says it was still too sharp, acidic and bitter.
After some time in Italy, a top German coffee roasting machine, the help of a 73-year-old German and digging three tonnes of coffee grounds into his garden, Townsend perfected his blend and began supplying Cafe Extreme with 135kg a week.
"If we'd just supplied Cafe Extreme it would have worked but that was not the idea. The idea was to become, not the biggest in New Zealand, but maybe the biggest independent."
A decade and a half later, long after parting ways with the now defunct Cafe Extreme, the plan is still the same.
Townsend has spent the past year sharpening up the business, including cutting staff, to boost growth into the supermarket and cafe markets it supplies, with a view to hitting the Australian market.
"We're sort of starting again, going right back to basics, that simple formula: do it really well, make the coffee so it tastes delicious, really look after the customer and then the business side will look after itself."
Improving on perfection doesn't include siphons, lightly roasted coffee, single origin beans or cold brew.
"I've tried some of the New Zealand cold brew and it tastes just like cough medicine if you ask me. It's bloody horrible," he says.
"I think a lot of the young guys are trying to get clever ... [the] latest move overseas, it's an American move, is to filter coffee.
"I don't like filter coffee. I like espresso with hot milk, that's what I like."
So how does Townsend take his coffee?
That'll be a cappuccino with a dusting of chocolate, thanks.