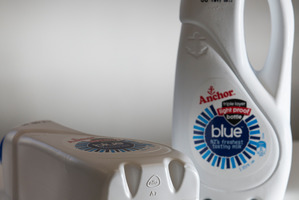 A light-proof milk bottle described as a world innovation is being criticised by recyclers who say the complex packaging has a number of drawbacks including potential effects on the environment.
Fonterra last month launched a "world-first" triple layer Anchor bottle, which it says protects milk from light and keeps it fresher and tasting better for longer.
However, the change has prompted a backlash from recycling companies who say the bottles need more energy and resources to manufacture than the single-layer see-through bottle, making them a lower quality and less sought-after recycling product.
The new bottles are made from HDPE, the same plastic as the old bottles. But recycling companies said the more complex packaging was having a number of detrimental effects on the industry.
"In terms of the value of the resource as a recyclable resource, they're less valuable. But they're more expensive and more resource-dependent to make, because they're using three different types of HDPE plastic to make those layers, so [the bottles are] heavy on resources and quite inherently wasteful," said a spokeswoman for Auckland recycling company Reclaim.
The company collects material including plastic milk bottles and on-sells them to be recycled.
"We're still taking them and most other recyclers will be, but it's just the benefits they're touting - light-proof - I mean you're seeing the consumer backlash," said the spokeswoman.
Wanaka Wastebusters' project manager Sophie Ward agreed the new bottles were being recycled into a lower quality product that could have negative long-term effects.
"There's a lot of pressure coming from China and because they're struggling to find uses for the world's recycling so the more materials put into these mixed [colour] streams, the less valuable that material becomes," she said.
The triple-layer bottle could also have a big impact on recycling companies, who received a significantly lower profit for the product, said Ms Ward, who believed Fonterra should have taken the effect on the industry more into consideration.
Wastebusters received 40 per cent of the price they got for the old bottles, she said.
The triple-layer bottles have also frustrated customers who have nominated the product 17 times for the Unpackit Worst Packaging Award 2013.
Fonterra group marketing manager Craig Irwin said there were myths about the new packaging, including concerns that the three-layer design contained three times as much plastic. In fact, the new bottle had only about one gram more plastic per one-litre bottle, and took no more resources to produce because of improved manufacturing techniques, he said.
Mr Irwin said Fonterra was also empathetic to concerns that the bottles made it difficult to tell how much milk was left inside.
"But again, in our research people told us they valued the taste and nutrition over the benefits of being able to see the milk."
- APNZ