New Zealand's richest man completes construction work at clifftop site, including a huge banquet hall.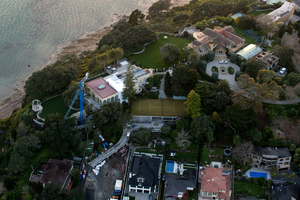 New Zealand's richest man, billionaire Graeme Hart, has completed a huge new three-level banquet hall with pool and piazza area at his Auckland clifftop property.
The stately new Italian-styled development featuring grand chandeliers matches the design of the 878sq m mansion where he and his wife Robyn live, in Riddell Rd, Glendowie.
The property sits on just over 2ha and includes the main 1930s mansion, a summer house, sleepout, guest quarters, swimming pool and spa, tennis court, playground and garage.
Extensive excavations and construction work during the past two years has resulted in the completion of the vaulted banquet hall with a domed glass atrium and its own swimming pool and wine cellar, set in a large flat area overlooking the Hauraki Gulf.
The main structure, with a vaulted ceiling equipped with mood lighting in green, orange and purple, is framed by huge native and palm trees including an old pohutukawa, now set off in its own concrete Italian-style fence.
A lower-level commercial kitchen with stainless steel benchtops sits beneath the banquet hall, developed so the Harts can hold huge parties away from their private residence.
A lawn extends to the north with views towards Rangitoto Island, and one person who knew about the job estimated that the work cost nearly $30 million.
A grand ornate Italian-style portico with a bench seat is perched in front of the new building and overlooks the Hauraki Gulf.
An adjoining tennis court includes a basement carpark for guests and there is a large suspended driveway up the back for staff and catering.
"This is what you do if you are the richest guy in New Zealand," said one party close to the work.
Furniture in the banquet hall is informal, with comfortable couch seating features alongside more intimate gathering areas with small tables.
For bigger groups, bench seats are set in front of casual trestle-style tables.
Julian Guthrie of Godward Guthrie is understood to have been the architect for the project but refused to discuss it.
The Harts bought the property in 1994 for $930,000 but it is now worth about $22 million - $15.5 million for the land and $6.5 million in improvements.
The rates bill last year was said to be the highest for any house in the country at $63,320.47.
Hart, worth US$5.3 billion ($6.2 billion) according to the Forbes Rich List, also has a homestead in Church Bay on Waiheke Island and a 58m yacht Ulysses, worth about $124 million.
Two years ago, his newest superyacht, Weta or hull U77, was brought from Chile to Auckland.
The 77m vessel was moored at the Wynyard Quarter.
CharterWorld reported that the explorer-style motor yacht required complete interior and exterior fitting, making it one of the largest superyachts to be fitted out here.
"Explore yacht Weta can accommodate up to 12 guests in one owner suite, one VIP suite and four guest suites. She has 10 crew and staff cabins to sleep 25," CharterWorld said.
In February, Weta's $50 million refit was reported to have gone to Whangarei after it was towed to Port Nikau in Northland when local firm Culham Engineering was believed to have offered a better deal than other businesses.
QV lists Hart owning seven Auckland residences in his own name.
Many of the places are close to one another.
Five of the houses are in Riddell Rd and include his Glendowie house.
In addition, he has two St Heliers properties in Waitara Rd, one which he bought in 2011 and the other late last decade.
Big business
Graeme Hart's business interests include:
* Carter Holt Harvey
* International Paper
* Rank Group
* US-based Pactiv Corporation
* Graham Packaging
* Swiss company SiG.