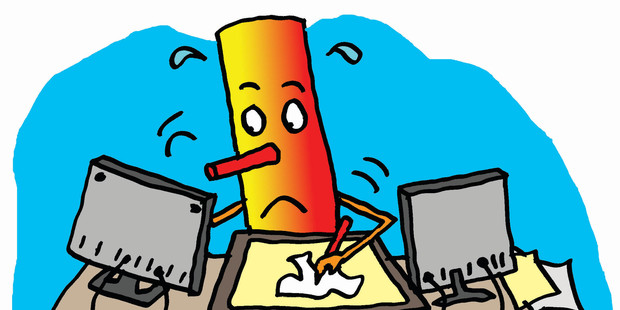 "I see ..." murmured the caregiver, "... that John le Carre is still producing a new book every year and he's older than you."
As it's taken me 30 years to complete an account about a World War II Polish philosopher turned double espionage agent, the caregiver knows how to needle my sensitivities in the creative writing department.
"No doubt he doesn't have the same family responsibilities I'm burdened with, and doesn't have to slave away at different coalfaces to provide milk for little ones," I tartly suggested.
"Well," she continued, "if you gave up drawing silly scribbles and ceased churning out weekly jottings about understrappers and caregivers, maybe you'd have more time to pursue your slothful literary career."
"I happen to enjoy drawing cartoons and being a newspaper columnist," I said stiffly, slightly incensed at the terms "silly scribbles" and "jottings" to describe my career as a newspaper hack.
"Well, you could cut back on running an interior design consultancy and instead of producing long-winded specification papers for business corporations, you could be writing creatively," she suggested.
The caregiver has a point. One of the more wearisome tasks in the design business is preparing specifications for tenders and council permits. Bright young things looking for a job in interior design, who believe it's all about running around choosing pretty fabrics and cushions, sober up swiftly when they come face to face with their first council rejection of a fire and ventilation report.
"But these are exciting times in the industry, with a great number of changes in the way corporate structural architecture is put together," I pleaded.
"Plus, someone's got to resist the new wave of Google-inspired designers who believe that transforming an office into something resembling a dog's breakfast with concentrated doses of tasteless kitschy furnishings represents some form of environmental coolness for today's new breed of mindless computer nerds."
"Well, you could give up designing furniture and lecturing students," my wife relentlessly continued.
"But it's pleasurable creating new furniture pieces, and teaching puts something back into the industry," I whined.
"Your mother was right when she said, 'Your trouble is, you're a Jack of all trades and master of none'," retorted the caregiver with a weary smile.
"I was hoping for something more flattering, like 'new age renaissance man'," I called out wistfully, as the kitchen door closed firmly behind her.