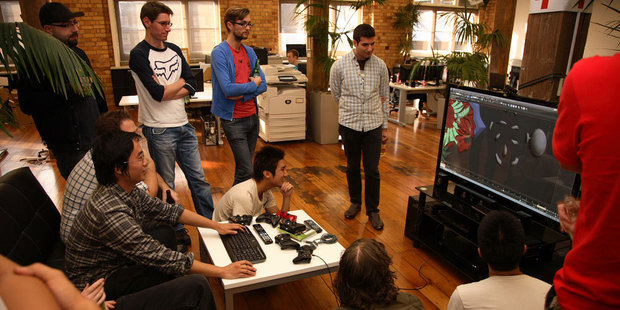 New Zealand's thriving game development industry presents a major opportunity for the country to attract more highly skilled migrants, says the Prime Minister.
Speaking at Gameloft in Auckland today, Prime Minister John Key told members of the company they were at the forefront of a changing economy.
"We make a lot of money in New Zealand out of selling food and we do it really well," Key said.
"But actually there's a big part of the economy emerging that's not food-based, it's IT-based (information technology) and there are huge opportunities for us to attract people."
Not only was New Zealand "a great place to live" but game development studios like Gameloft were "seamlessly borderless" and had global reach.
"You don't have issues about exporting a product per se - you can just send off the file and away you go.
You're at the cutting edge of tomorrow's companies."
Gameloft, which is a subsidiary of its French-owned global parent, is a leading developer and publisher of games for mobile phones and consoles.
Its three top-selling video games in 2012 - My Little Pony, My Littlest Pet Shop and Wonder Zoo - netted the company sales in the millions.
The company has grown from 15 to 85 developers in less than three years and is represented by more than 20 different nationalities.
Key compared that to the type of demographic seen in Silicon Valley, where only 20 per cent of workers were US-born.
He said he was "very pro-migration" and wanted to make New Zealand an interesting place for foreigners to come and work.
"It makes New Zealand a hell of a lot more of an interesting country to live in."
Plus, skilled migrants who came here would inevitably start up new companies, which in turn would employ more people, Key said.
Gameloft's studio director Patrick Wagner said when the Paris-based company started looking to set up a studio in 2010, New Zealand came out top of the list.
"What we valued about New Zealand was simple - a safe and stable country with highly skilled workers and a business-friendly environment that would not place to high a tax burden on large companies.
"We have now become New Zealand's largest video games studio."
Key visited Gameloft today as part of its three-year anniversary celebrations.
He told staff he had heard a lot about the company and was looking forward to watching its progress.
"When we come back in 10 years time to celebrate your birthday you won't have 85 employees, you'll probably have 850."
Gameloft has 28 subsidiaries around the world, employs 6200 people and last year made sales worth about 250 million euro (NZD$400 million).
There are about 450 full-time game developers in New Zealand.