Northgate Business Park has prime development opportunities for a whole range of businesses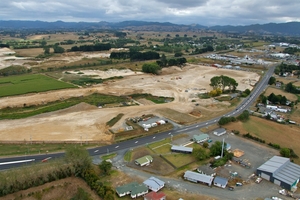 Fifteen industrial sites ranging in size from 2000sq m to six hectares are being offered as part of stage one of the new 109ha Northgate Business Park development, on State Highway One at Te Rapa, northwest of the Hamilton CBD.
Design-and-build and leasing options are being marketed for sale and lease by private treaty through Alan Pracy and Mark Brunton of Colliers International.
Pracy says Northgate Business Park is being developed to the highest standards. "Available sites can be tailored to suit the property needs of a range of businesses wanting good access to transport infrastructure within a well-located, professionally managed industrial estate."
The industrial park is to be built on industrial-zoned land with earthworks and subdivision underway. The first building, a large warehouse and office complex, is under construction, with tenants Waikato Milking Systems signed up.
The rural land was rezoned for industrial use in April 2011 following moves by the Waikato District Council to encourage the extension of Hamilton's industrial area.
Brunton says the park offers pre-lease, purchase and turn-key building solutions with significant flexibility available for prospective occupiers.
"The developers are prepared to offer the market a number of options. They can design, build and lease premises; or design, build and sell to owner-occupiers."
Given the development's closeness to key transport links, Pracy expects it to appeal to logistics, warehousing or distribution companies. The development is strategically placed in central Waikato, 8km northwest of the Hamilton CBD, 110km from Auckland and 110km from Tauranga.
Expected prices on land sites within the park are about $200 per square metre, Brunton says.
He expects the development to appeal to owner-occupiers as well as tenants based in the Waikato and beyond. Key occupiers in the area include Fonterra's Te Rapa dairy factory and Affco's meat processing facility.
The property's location in the growing industrial area of Te Rapa also adds to its appeal, Pracy says. "Te Rapa superseded Frankton some time ago as Hamilton's premier industrial location. This has been driven by factors including Te Rapa being closer to Auckland, larger site sizes and a spate of new development which has attracted new and growing businesses to the area."
Brunton says the recent advent of The Base and Te Awa shopping centre means that Te Rapa is now well provided with amenities, which is drawing more and more businesses to the area. "Completion of several roading projects, such as the Hamilton ring road, expected to be completed in 2014, can also be expected to improve convenience and access for Te Rapa industrial users."
Several bypasses will provide four lane expressway access between Northgate Business Park and Auckland in the future. These include the planned Ngaruawahia, Rangiriri, Te Kauwhata and Huntly bypasses, he says.
"Hamilton offers advantages over Auckland for industrial occupiers," Brunton says.
"Land is very competitively priced compared with South Auckland and transport infrastructure improvements are making access to Auckland and its port easier. Add to this the availability of Hamilton land and a less costly workforce, and there is a strong set of factors which should continue to underpin industrial activity here."
Stage One development
• On offer: 15 sites in new industrial park
• Project: Northgate Business Park
• Where: Te Rapa, outside Hamilton
• Features: Buy or lease options
• On SH1 with good transport access