Regulatory change highlighted as the main impediment to generating strong returns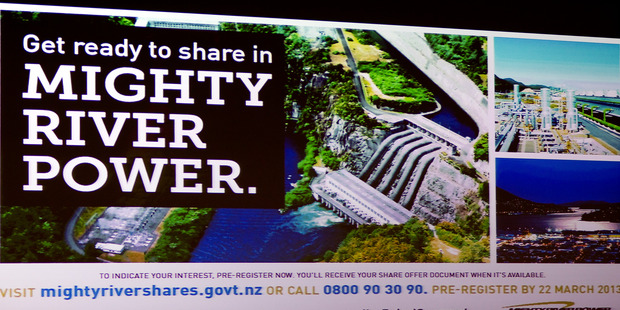 Photo / Sarah Ivey
Investors should still consider buying into the Mighty River Power float despite the increased regulatory risk from Labour's proposed shake-up of the electricity market, according to one analyst.
Nachiket Moghe, a senior research analyst with Morningstar, yesterday released a note recommending investors subscribe to the offer and placing a value of $2.70 on the shares, which assumed the Opposition's plans did not go ahead.
Moghe is one of a few analysts not captured by a blackout preventing those who work for companies involved in the deal from making a recommendation on the stock until 40 days after its shares are allotted.
Moghe said his high valuation, which is at the top end of the $2.35 to $2.80 range predicted in the investment prospectus, was based on Mighty River Power's strong competitive position.
"We expect Mighty River to generate return on invested capital of 12.5 per cent on average over the next five years ..."
Moghe said that strong free cash flows because of a declining capital expenditure programme should result in higher distributions to shareholders and he projected that dividends would rise by 11.5 per cent a year on average between 2013 and 2017.
But he warned regulatory change would be the main impediment to the company generating strong returns.
"We believe the opposition proposal is fairly extreme, but it would significantly reduce our fair value estimate if implemented."
Moghe said the proposal had the potential to reduce Mighty River's operating income by $100 million and erode the value of the shares by 60c to 80c a share, potentially pushing it below $2 a share.
Moghe said he had a high uncertainty rating on the stock because of the regulatory uncertainty.
The Government was forced to release a supplementary disclosure document overnight Monday as a result of a proposal by the Labour/Green Parties to establish a state agency to act as a single buyer of wholesale electricity from generators.
The document reveals the change in structure could take up to four years with a two-year pre-launch timetable and a further transition period of two years to make the switch.
The Government and Mighty River Power said they could not quantify the potential effect of the proposals on the company's future business, financial results or value of shares but Mighty River Power did not consider the proposal would affect its prospective financial information for 2013 or 2014.
Moghe said while a general election was still 18 months away potential investors should consider the risks now.
"They should consider those risks before investing in the shares. It's not just the fair value, you've got to look at all the risks as well."
Despite his high valuation he would not be surprised if the shares ended up being valued at the low end of the range or even below the low end.
"It's most likely to be closer to the lower end," he said.