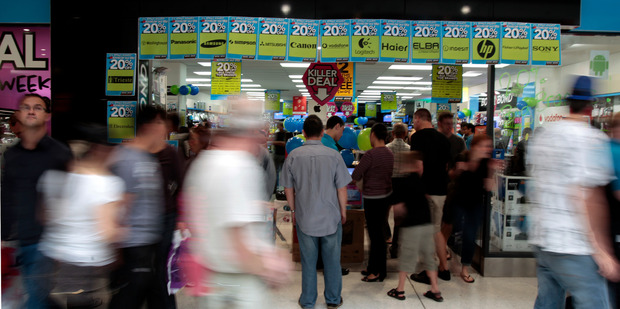 New Zealand consumers are more upbeat about buying big ticket items than they have been in five-and-a-half years, with confidence increasing last month.
The ANZ-Roy Morgan Consumer Confidence survey rose 4.4 points to 119.2 in April, just ahead of the historical average at 117.
A net 40 per cent of the 1,019 people surveyed think now is a good time to buy major household items, compared to a net 31 per cent in March. That comes a day after government figures showed about 40 per cent of major appliances were discounted by retailers in the March quarter.
"It is now viewed as a 'great' time to buy a major household item, with readings not seen since August 2007," said Cameron Bagrie, ANZ chief economist. "Rising asset prices and aggressive price discounting are a powerful combination driving sentiment."
The biggest gain in confidence survey was in current conditions, which gained 7.6 points to 119.1, while future conditions edged up to 119.3 from 117.1 in March.
Bagrie said the improving consumer sentiment was probably dragged up with rising property values, with the biggest lifts in Auckland and Christchurch - the regions which have been driving the market's recent gains.
"The property market is under the spotlight of the Reserve Bank," he said. "We're under instructions to behave: this means not translating lifts in asset prices too far into spending behaviour of the borrow and spend variety."
Figures yesterday showed New Zealand's consumers price index rose 0.4 per cent in the
March quarter, giving the central bank room to keep interest rates lower for longer, though the bank has a balancing act of trying to ensure the strong kiwi dollar, which is keeping prices down, doesn't damaging the local economy.
Today's survey showed respondents are less negative about their own financial position, with a net minus 2 saying they are worse off than a year ago, down from minus 8 in March. People were slightly more optimistic about the future, with a net 28 per cent expecting to be better off next year, up from 27 per cent.
A net 7 per cent of respondents see New Zealand's economy in good times over the coming year, up from a net 2 per cent, and a net 24 per cent seeing a better five-year horizon up from 22 per cent in March.