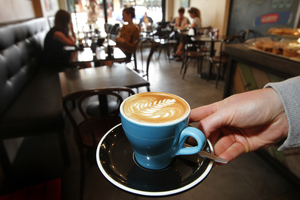 The number of New Zealanders buying cups of coffee has levelled out in the past five years, a study by market research company Roy Morgan suggests, but Auckland baristas disagree.
Five years ago, 4 per cent more New Zealanders than Australians were buying takeaway coffee or tea.
"Australians were slower to embrace [the cafe culture] with quite the same zeal as New Zealanders," said Roy Morgan Research NZ general manager Pip Elliott.
However, over the past five years cafe visits in Australia had increased to match New Zealand.
"Growth across all age groups indicates that this may be a continuing trend, whereas the market in New Zealand seems to have plateaued.
"Now is the time for Kiwi cafe operators to up the ante and try to buck this trend - recognising which customers have the most potential for growth and targeting them with appropriate marketing," Ms Elliott said.
Auckland baristas disagreed with the survey's findings, and said cafe coffee drinking was more popular than ever with Kiwis.
Between January 2008 and December 2012, 19,640 people in Australia and 11,682 people in New Zealand were surveyed.
The research showed 56 per cent of Kiwis and Australians surveyed had bought a takeaway tea or coffee in the past three months. APNZ
- APNZ