Training body works to boost number of engineering and trade apprentices as construction industry takes off.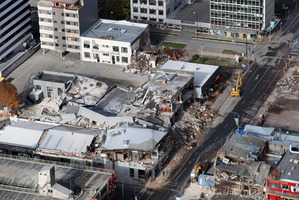 With the rebuilding of Christchurch gaining momentum, some engineering and construction firms are looking overseas for people with the skills they need.
One building company manager says his firm is drawing workers from the Philippines, having exhausted Hamilton and Auckland.
"Local talent in Christchurch has been depleted," says Graeme Earl, operations manager at Leighs Construction.
"Companies like us are importing not only tradespeople, but quantity surveyors and project managers.
"People working in construction can work in any country. Plenty of them want to move to New Zealand because it is a nice place to live,so attracting people isn't a problem.
"The big thing is getting good talent - people that will fit in with your company's culture - and seeing that people from abroad don't set up little subcultures within the company. So you have to be very mindful of who you employ."
Earl says his firm has hired people from Hamilton and Auckland, but eventually had to look abroad and so targeted the Philippines. The firm, which employs 110 people, now has 46 Filipino tradesmen on its team.
"We went to the Philippines to work with a local recruitment agency there - but we did the testing and evaluation of applicants in-house," he says. "Then we worked closely with NZ Immigration to bring the best people to Christchurch."
The firm has hired carpenters, concrete foundation specialists and project managers, and has been on a recruiting drive in the Philippines twice, with the first lot arriving last September and a second group starting work for the firm in February.
"Our company has worked with people from the Philippines abroad and have found them to be hard working and highly skilled - they can set the bar."
Playing its part in closing the skills gap is the Building and Construction Industry Training Organisation (BCITO). It launched a campaign last year to increase the number of trade apprentices ahead of a government announcement in January to combine all apprenticeships into a single nationwide scheme.
In an attempt to make a dent in the 30,000 construction workers needed in Christchurch, BCITO held a trade careers promotion last Saturday at venues across the country.
The organisation's chief executive, Ruma Karaitiana, says: "Building work opportunities are not just based in Christchurch and Auckland, it is really kicking off across the country and we expect this demand will stay with us for quite some time.
"The construction industry needs as many skilled people as it can get right now. The industry is finding it hard to find experienced and qualified people, and that is not surprising.
"There is always a lot of discussion in the construction industry about recovering from a recession, but firms tend to want to see some certainty before they start hiring people.
"Construction is a boom and bust industry, and whenever we track hiring trends, data lags by almost a year.
"For example, people were talking about construction work in Christchurch getting under way quite strongly in about June last year. But we didn't see any change in hiring decisions until the end of lastyear."
Karaitiana says two centres are acting as magnets for construction workers right now.
"Christchurch is an obvious one, but Auckland is really strong at the moment. Most of the inquiries we are getting are coming from employers in Auckland."
Engineering is another industry clamouring for quality staff. Employers looking for workers frequently call Larry Wiechern, senior lecturer in engineering at the Manukau Institute of Technology, asking for contacts.
"We get requests from companies looking for suitable tradesmen, but most of our students are apprentices, and still studying," he says.
"There seems to be a positive surge in apprentice numbers at the moment, most likely due to the response from Government in support of apprentice training, and the fact that engineering companies know that if they want to grow their business they need the human skilled asset to achieve that goal."
Wiechern says one of his criticisms of the engineering industry is that firms are not spending enough money keeping existing staff up to speed on new developments, modern ways of working and routine maintenance of company equipment.
"Not enough money is being spent to ensure staff are up-skilled, so that their plant operates in the most efficient manner," he says.
"This has an impact on efficiency."
Steve Hart is a freelance reporter at SteveHart.co.nz