Independent review urged as Auckland councillors consider scheme to extend Bledisloe Wharf into harbour.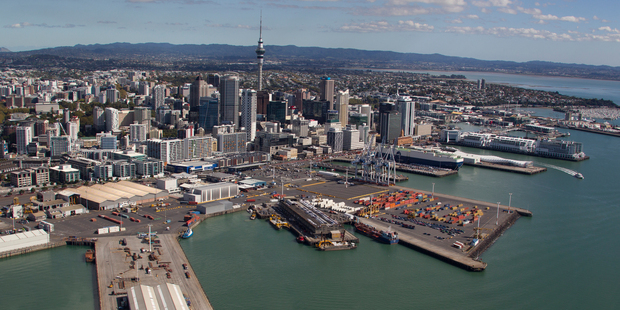 Leading Auckland business figures are squaring off ahead of a crucial vote today on reclaiming more of the Waitemata Harbour for port operations.
Last night, The Warehouse founder Sir Stephen Tindall, banker Sir Ralph Norris and Mainfreight boss Don Braid spoke out against Ports of Auckland's latest bid to expand into the harbour.
They asked the governing body to prevent the port expansion being included in the council's new rulebook - or unitary plan - until an independent review was done to see if there was a better solution.
In a joint statement, the three businessmen - who still want to keep the latest proposal on the table - said: "Why the rush as we have not yet had the debate on how to service a busier port? This is critical and is the obvious next step for council to take."
Auckland councillors today will consider a recommendation from officers to "support in principle" two options from the port company to extend Bledisloe Wharf by 135m or 179m into the harbour.
The latest plans were sparked by a Herald campaign last year against further reclamation of the Waitemata Harbour.
That idea caused a huge public backlash, a rethink by the council and a promise to model a range of development options for the port.
The council decided in March last year that no "specific port expansion" would be included in the Auckland Plan - a 30-year blueprint for the city and guiding document for the unitary plan - which aimed to protect and enhance the Waitemata Harbour and Hauraki Gulf.
Ports chief executive Tony Gibson is hopeful Aucklanders will see that the company has listened and worked to make the port more efficient and double throughput without much expansion.
The company has pulled back from extending Bledisloe Wharf 283m into the harbour for a 22ha reclamation to extending Bledisloe Wharf 135m or 179m into the harbour for a 5.5ha or 6.6ha reclamation.
Several business groups, including the Auckland Chamber of Commerce, Employers and Manufacturers Association (EMA) and the New Zealand Council for Infrastructure Development (NZCID) have come out in support of the port.
EMA chief executive Kim Campbell said not letting the port expand was effectively a decision to close it down.
"We can't understand where those opposing it are coming from, with so many jobs at risk," he said.
NZCID chief executive Stephen Selwood said the revised plans would lift productivity, meeting future freight demand and supporting jobs - estimated at 2027 in a 2011 report.
"Suggestions that Auckland should build a new port somewhere else are unrealistic," Mr Selwood said.
A longtime opponent of more reclamation, Heart of the City chief executive Alex Swney, said the ports company had rated its own 2008 port development plan with 44.8ha of reclamation zero out of 10 and its 2011 plan with 22.6ha of reclamation five out of 10. "Clearly we need an independent study."