NZ dollar down to US84.9c and BNZ strategist says slowing Chinese growth could have big impact on market.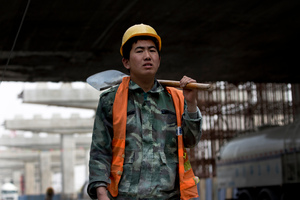 The New Zealand and Australian dollars were knocked lower yesterday after data showed China's economic recovery stumbled in the first quarter.
China's National Bureau of Statistics said the country's annual rate of growth eased back to 7.7 per cent from 7.9 per cent in the December quarter of last year.
The growth rate was weaker than a Reuters poll consensus forecast for an 8 per cent expansion.
Tim Condon, head of Asian economic research at ING in Singapore, told Reuters that China's industrial production was unexpectedly weak.
"Based on this, the consensus GDP forecasts are going to be headed lower and we'll certainly be looking at ours," he said.
The data took some pressure off the kiwi, which last week showed signs of breaking through its record post float high of US88.43.
The local currency dropped by slightly more than half a US cent to US84.9c just after the data's release and the Australian dollar fell to US104.35c from US105.20c.
"China has taken a fair old gouge out of the kiwi," BNZ strategist Mike Jones said.
"It is potentially significant that the market had been pinning its hopes on a steady rebound in Chinese economic activity through the first half of this year, so this data questions that view," he said. "The idea that the Chinese recovery may be stalling is potentially a big deal for the markets, given that China is driving about three-quarters of global growth at the moment," he said.
The share prices of Australia's mining giants, BHP Billiton and Rio Tinto, plunged after the data's release. By late afternoon, BHP's shares were trading at A$32.22 and Rio was at A$54.83, down 3.6 per cent.
The news from China coincided with $11.27 billion of New Zealand Government bonds maturing, which the market took in its stride.
Investors holding the bonds, which were issued in 2001, would have arranged to reinvest the proceeds in advance, one dealer said.
Imre Speizer, senior market strategist at Westpac, said the day's price action in the New Zealand dollar was likely to represent a correction after a strong run up from US81.6c in mid-March to US86.75c last week.
He expected the currency to resume its upward trend once the correction ended.
China's growth rebounded late last year from its deepest slump since the 2008 global crisis but analysts say a recovery will be weak and is still being supported by government spending, while growth in consumer spending is subdued.
The economy has given mixed signals, raising questions about whether a full-fledged recovery was gaining traction.
Inflation fell in March, suggesting consumer demand might not be as strong as Beijing hoped. Import growth accelerated, suggesting companies and consumers were buying more, but some analysts said those figures might be unreliable.
- APNZ